Yuan is a eighteen year old cat, her boyfriend is
Louis the Four-tailed Fox
. Unlike most cats she has the ability to weld the elemental power of fire. Ever since birth she was able to weld the power of fire. The creator of
Yuan the Cat
is
LouisTheFox
and he also has a Deviant Art account under the same name.
Personal Information
Name: Yuan
Full name: Yuan Lanzhou
Mobian Race: Cat
Birthdate: April 17, 1996
Sign: Aries
Residence: Mobius
Gender: Female
Age: 18
Height: 4'8
Status: Alive
Birthplace: Xi'anhu, Chun'nan People's Republic
Weight: N/A
Parents: Won Lanzhou (father), unknown mother
Sexuality: Straight 
Aligment: Hero
Love Interest: Louis the Four-tailed Fox
Apperance
Yuan has green colored eyes, wears light brown cargo pants, military boots, a leather belt, red t-shirt, and a red bracelet. She also wears a necklace that was given to her by Louis. Yuan has light brown or dark tan colored fur, has black hair and a black Chinese symbol on her head. The symbol means "Fire Welder" in Chinese.
Yuan is also slightly taller than her boyfriend Louis. As shown on the right, you will see the difference from two of them by height.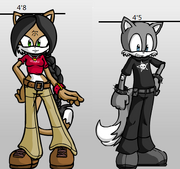 History
Yuan was borned in the dark late night of April 17, 1996. She was born to very ill mother who was dying of kidney. Doctors thought that Yuan wouldn't made it in time to be born before April 18. But luckily her mother whom she never knew or even remember was able to use the last of her strengh to give birth to her daughter Yuan. 
After her mother died from kidney failure, her father Won took care of her. He would take her to their next door neighbor's house before he went to work each morning and return each night and bring Yuan home to feed her and then bring her to bed. Her father worked as a politician in the town of Xi'anhu, he often was working for the mayor of the town at the time when Yuan was only a infant.
By the time Yuan was three years old, her father was often involved in Democratic Party of Chun'nan. During the time Chun'nan was a communist state within the Far East of Mobius. Freedom of speech in Chun'nan was a absolute serious crime, which often resulted in execution or exile. Her father one day was arrested by Chun'nan government and later executed for "saying something against Chun'nan government". Leaving Yuan as a orphan to fend for herself.
When she became eight years old she grown tired of her "boring" life in Chun'nan. She decided that she wanted to move to the United States of Mobius so she could live a new life. But however she knew that leaving her country of Chun'nan was a serious crime and she could get killed for what they consider, "betrayal of your own nation".
Regradless she went ahead and escaped her country and took a sailboat to Neo Jersea, United States of Mobius in a total amount of 25 days alone by herself with a good amount of food and water and supplies. 
When she finally arrived on shores of Neo Jersea she lived her new life as she wanted. She had no problem with the new people she was living, she was very fluent in English since her father taught her before he died.
Eventually she met Louis when she was seventeen years olds, and together they started to get to know each other. Yuan began to fall in love with him, during the same time Louis began to fall in love with her as well. Eventually after six months, they both met and express their feelings to each other. 
After that they both began to date each other, and on her eighteen birthday Louis bought her a necklace that she adored and began wearing since.
Since then the two have been a couple for more than a year, and wish to continue to be together forever. 
Abilities
Yuan has many abilities she uses in case if she is in a serious situation or if Louis is hurted or wounded. She can throw fire balls, throw rings of fire, rise heat temperature, melt objects in her way, and when she activates full recoil, her marking on her forehead will turn glowing green and she will then be given power from the Fire Dragon.
Personality
Yuan has a "Get it done" personality, she is very kind and generous when it comes to nice comments about her or Louis. She is also very caring about Louis and others. She can sometimes teases Louis, but in humorous way. She has a sense of humor and a very confident attitude to herself and Louis. She is always honest to Louis no matter what the situation is.
Family and Love Relationship
Won Lanzhou (deceased father)
Louis the Four-tailed Fox (boyfriend)