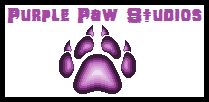 ~ This page is a creation of Purple Paw Studios ~
~~~~~~~~~~~~~~~~~
Basic Info
Full Name
Vashti the Fanaloka
Appearance
Description
Fur:
Silver
, white, and
old lavender
Hair:
Spanish violet
Eyes:
Sunray
Biographical Info
Personal Info
Occupation
Wind Clan Tactician
Skills and Abilities
Skills
Skilled w/ dagger
High intellect
Abilities
Hand-to-hand combat
Vashti the Fanaloka is a tactician that serves the Wind Clan of Khazri.
Physical Description
A somewhat curvy fanaloka who stands a little over three feet tall, Vashti has a medium-length, tapering snout with three whiskers on either side of her nose, somewhat small, rounded ears that stand upright, and a long, fluffy tail.
Her fur is primarily silver in color, with a white muzzle, chest, and stomach, as well as a broken line of old lavender spots running down her back, shoulders, and thighs; she has more old lavender stripes and blotches on her tail, and old lavender markings around her eyes. Her hair, which is tied back in a loose ponytail, is Spanish violet in color, and her eyes are sunray in color.
History
Abilities
Base Stats
Stamina
Good
Strength
Good
Energy
Good
Durability
Average
Resistance
Average
Speed
Great
Reflexes
Great
Magic
N/A
Kinesis
Great
Intellect
Superior
Other Stats
Eyesight
Superior
Hearing
Superior
Olfactory
Great
Being a tactician, Vashti excels in strategical combat, with a heavy emphasis on (often physical) combos, either performed with her own techniques or with the help of allies. She excels at whittling down her opponents with swift combos.
Her keen eyes and high intelligence make her an invaluable observer, and this allows her to relay important combat information to her allies; this also allows her to play with her opponent's mind, often by playing on their vanity. However, single attacks from her are rather weak, and she is overall fragile, as well, forcing her to rely on her agility to survive.
She is an adept aerokinetic, and primarily uses lower-tier physical techniques of the Wind Element.
Strengths/Resistances
Vashti is relatively resistant to the Elements of Wind and Nature (her Wind resistance is somewhat higher, however). She is also quite agile, able to dodge slow-moving opponents and attacks with ease.
Weaknesses
Vashti is weak to the Elements of Earth and Electricity. Her defenses are subpar, forcing her to rely on her agility to survive. Being a manipulator of Wind, having her movement restricted in any way can weaken her Wind powers, if not outright nullifying them.
Friends and Foes
Friends
Allies
Rivals
Enemies
Personality
Ever analytical and watchful, few things escape Vashti's keen eyes and ears. Her rather blunt, no-nonsense attitude gives off a bit of a cold impression, but those who can look past a first glance will find a warm and generous soul.
Likes
Dislikes
Biggest Fears
Quotes
Notes
Her name is the
Community content is available under
CC-BY-SA
unless otherwise noted.