About Me
Hey Everybody I'm Starboy but call me star for short. Anyway Im the creator of Sky The Hedgehog and one of the ,main characters in the main roleplays (outside of sonicfanon wiki) Flash of the Shadows.I'm 17 I like anime,manga,and roleplays also like draw sonic and make stories...etc. I live on planet deadsoul...hey i would say planet vegeta but it blew up.My goal in sonicfanon is to try to put anime into sonic.
My fursona
Just Me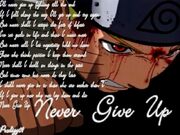 Community content is available under
CC-BY-SA
unless otherwise noted.