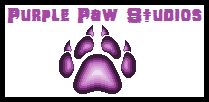 ~ This page is a creation of Purple Paw Studios ~
~~~~~~~~~~~~~~~~~
Basic Info
Full Name
Ukaoza the Galago
Relationship Status
Taken
Appearance
Description
Fur:
Byzantium
,
Tyrian purple
and peach
Hair:
Black
Eyes:
Vermilion
Biographical Info
Personal Info
Occupation
Poison Clan soldier
Skills and Abilities
Skills
Skilled w/ poison-coated bagh nakhs
Abilities
Advanced combat
Weaponry
Poison-coated bagh nakhs
Ryushusupercat/Ukaoza the Galago is a soldier that serves the Poison Clan of Dokuso. She is best friends (and more) with Kimyasal the Mink.
Physical Description
Ukaoza is a lean galago who stands at average Mobian height. She has a short, pointed snout, very large, rounded ears that stand upright, and a long, slender tail that grows bushier towards the tip.
Her fur is primarily Byzantium in color, with Tyrian purple ear tips and a peach muzzle and chest. Her hair, which is messy and reaches roughly three inches past her shoulders, is black in color, and her eyes are vermilion in color.
History
Blossoming Friendship
Abilities
Base Stats
Stamina
Great
Attack
Great
Spcl. Atk
Good
Defense
Average
Spcl. Def
Average
Speed
Great
Reflexes
Superior
Magic
N/A
Psyche
Great
Intellect
Great
Other Stats
Eyesight
Great
Hearing
Superior
Olfactory
Great
Like the other Poison Clan soldiers, Ukaoza is a fairly well-rounded fighter, who primarily excels in close-range combat; she wields a pair of bagh nahks as her weapon, the blades of which are coated in poison. She is quite fast and agile, able to easily outpace slower opponents and evade their attacks; unfortunately, she is not terribly sturdy, and cannot take too many hits.
Ukaoza is an adept Toxikinetic as well, and primarily wields offensive, low to mid-tier techniques, such as Poison Sting and Toxic Claw.
Poison Abilities
Elementless Abilities
Status/Defensive Abilities
Resistances
Ukaoza is resistant to the Element of Poison. She is also quite agile, able to dodge slow-moving opponents and attacks with ease.
Weaknesses
Ukaoza is weak to the Elements of Nature and Earth. Her defenses are subpar, forcing her to rely on her agility to survive.
Friends and Foes
Friends
Allies
Rivals
Enemies
Romance
Personality
A somewhat aggressive and tomboyish young woman, Ukaoza seems to delight in combat, whether it's a friendly spar or a true battle with an enemy.
Likes
Dislikes
Biggest Fears
Quotes
Notes
Her name is the Swahili word for "decayed".
See Also
Community content is available under
CC-BY-SA
unless otherwise noted.