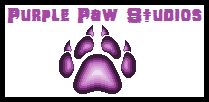 ~ This page is a creation of Purple Paw Studios ~
~~~~~~~~~~~~~~~~~
Basic Info
Alignment
True Neutral/Good
Appearance
Description
Fur: Blue w/ white chest and bodily spots
Hair: Dark blue-gray
Eyes: Yellow
Biographical Info
Personal Info
Occupation
Water Clan assassin
Skills and Abilities
Skills
Skilled w/ spatha
Stealth
Abilities
Advanced combat
Ryushusupercat/Sepharayne the Quoll (pronounced "SEH-fuh-rain") is an assassin that serves the Water Clan of Neso.
Physical Description
History
Childhood
Abilities
Base Stats
Stamina
Great
Attack
Great
Spcl. Atk
Good
Defense
Good
Spcl. Def
Good
Speed
Great
Reflexes
Superior
Magic
N/A
Psyche
Great
Intellect
Great
Other Stats
Eyesight
Great
Hearing
Superior
Olfactory
Great
Sepharayne is straight-forward (for an assassin).
Water Abilities
Elementless Abilities
Status/Defensive Abilities
Resistances
Sepharayne is relatively resistant to Water and Fire (her Water resistance is somewhat higher, however). Her great agility allows her to easily avoid slow-moving enemies and attacks, and her skill in stealth allows her to sneak up on opponents for surprise attacks.
Weaknesses
Sepharayne is weak to Electricity and Nature. Her defenses aren't anything special, and any particularly strong attack could easily take her out.
Friends and Foes
Friends
Allies
Rivals
Enemies
Personality
Likes
Dislikes
Biggest Fears
Quotes
Notes
Her name is the
Community content is available under
CC-BY-SA
unless otherwise noted.