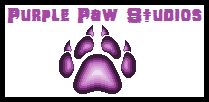 ~ This page is a creation of Purple Paw Studios ~
~~~~~~~~~~~~~~~~~
Basic Info
Full Name
Neraka the Skunk
Relationship Status
Single
Appearance
Description
Fur:
Amaranth purple
,
apricot
, and white
Hair:
Black
Eyes:
Awesome
Biographical Info
Personal Info
Occupation
Fire Clan soldier
Skills and Abilities
Skills
Skilled w/ Molten Kunai
Abilities
Hand-to-hand combat
Weaponry
Molten Kunai - kunai with Fire-element properties
Ryushusupercat/Neraka the Skunk (pronounced "nuh-RAH-kah") is a soldier that serves the Fire Clan of Fiamme.
Physical Description
A slim skunk who stands a little over three feet tall, Neraka has a short muzzle, somewhat small, rounded ears, and a large, fluffy tail.
Her fur is primarily amaranth purple, with an apricot muzzle, inner ears, chest, and stomach, as well as a large, white stripe that runs down the length of her tail. Her hair, which is shoulder-length, is black in color, and her eyes are awesome in color.
Neraka's attire consists of a baby blue eyes sleeveless bodysuit that extends to the top of her knees and has a white stripe down the middle, baby blue eyes fingerless gloves with black cuffs, and boots that are baby blue eyes and white in color. She also has two studs in her right ear.
History
Childhood
Abilities
Base Stats
Stamina
Great
Strength
Good
Energy
Great
Durability
Average
Resistance
Good
Speed
Great
Reflexes
Great
Magic
N/A
Kinesis
Great
Intellect
Great
Other Stats
Eyesight
Good
Hearing
Great
Olfactory
Superior
A well-rounded fire in both a melee sense and a ranged sense, Neraka has decent physical strength for her stature, but it mostly needs to be bolstered by er great speed, allowing her to add velocity to her melee attacks. She wields a pair of Molten Kunai as her weapon of choice; she can either throw them from afar or slash at the foe with them up close.
She's a proficient pyrokinetic, and easily wields mid-level Fire techniques that are both energy-based and physical, such as Flamethrower and Fire Punch. Stronger techniques such as Blast Burn are too stamina-intensive for her to safely pull off, however.
Strengths/Resistances
Neraka is relatively resistant to the elements of Fire and Nature (her Fire resistance is somewhat higher, however). She is quite fast, and can easily outpace slower foes and evade their attacks.
Weaknesses
Neraka is weak to the Elements of Ice, Earth and Water. Her defenses aren't anything special, therefore she mostly relies on her agility to try and evade potentially devastating attacks.
Friends and Foes
Friends
Allies
Rivals
Enemies
Personality
Neraka is rather shy and soft-spoken.
Likes
Dislikes
Biggest Fears
Quotes
Notes
Her name is the Indonesian/Malaysian word for "inferno"
Gallery
Community content is available under
CC-BY-SA
unless otherwise noted.