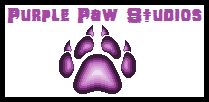 ~ This page is a creation of Purple Paw Studios ~
~~~~~~~~~~~~~~~~~
Basic Info
Full Name
Nakkav the Marten
Species
Mobian/Nilgiri Marten
Appearance
Description
Fur:
Amaranth purple
and
antique brass
Hair:
Black
Eyes:
American rose
Biographical Info
Personal Info
Occupation
Poison Clan priestess
Skills and Abilities
Ryushusupercat/Nakkav the Marten (pronounced "nuh-KAHV") is a priestess that serves the Poison Clan of Dantamu.
Physical Description
An averagely-built marten that stands a bit over three feet tall, Nakkav has a short muzzle with a triangular nose, short, somewhat triangular ears that sit more at the sides of her head than on top of it, and a long, fairly slender tail.
Her fur is primarily amaranth purple in color, with an antique brass muzzle, chest, and inner arms reaching to her elbows. Her hair, which is tied up in a high ponytail, is black in color, and her eyes are American rose in color.
History
Childhood
Abilities
Base Stats
Stamina
Good
Strength
Average
Energy
Great
Durability
Average
Resistance
Average
Speed
Great
Reflexes
Great
Magic
N/A
Kinesis
Superior
Intellect
Great
Other Stats
Eyesight
Great
Hearing
Great
Olfactory
Superior
As a priestess, Nakkav's abilities are primarily utility-based, focusing around buffing her allies and wearing down her enemies with debuffs and the like. She has a strong connection to the Chaos Force, giving her access to fairly powerful energy-based attacks (but not as strong as the attacks of a battle mage). Her spirituality allows her to manipulate the environment around herself in subtle ways, and this allows her to not only buff the power of her chosen Element, but to also weaken the power of other Elements.
Being a marten, Nakkav has very sharp teeth and strong jaws, and she can even coat her teeth in poison; she also has a semi-prehensile tail, allowing her to carry light-weight objects with it. She also has a keen sense of smell, and, due to her species, is a great climber.
Strengths/Resistances
Nakkav is relatively resistant to the Element of Poison. She is quite fast, and can easily outpace slower foes and evade their attacks.
Weaknesses
Nakkav is weak to the Element of Nature and, to a lesser extent, the Elements of Earth and Wind. Her defenses aren't anything special, therefore she mostly relies on her agility to try and evade potentially devastating attacks. Her physical strength is also less than stellar, making her falter heavily in hand-to-hand combat.
Friends and Foes
Friends
Allies
Rivals
Enemies
Personality
Likes
Dislikes
Biggest Fears
Quotes
Notes
Her name is the Estonian word for "infectious".
Community content is available under
CC-BY-SA
unless otherwise noted.