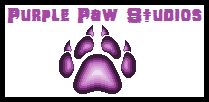 ~ This page is a creation of Purple Paw Studios ~
~~~~~~~~~~~~~~~~~
Basic Info
Full Name
Hylifo the Numbat
Appearance
Description
Fur:
Glaucous
,
midnight blue
and white
Hair:
Black
Eyes:
Asparagus
Biographical Info
Personal Info
Occupation
Water Clan soldier
Skills and Abilities
Skills
Skilled w/ falchion
Abilities
Advanced combat
Ryushusupercat/Hylifo the Numbat is a soldier that serves the Water Clan of Neso.
Physical Description
An averagely-built numbat who stands a little over three feet tall, Hylifo has a somewhat short, pointed snout, somewhat long, elliptical ears that stand upright, and a fairly long, bushy tail, not unlike the tail of a chinchilla.
His fur is mostly glaucous in color, with the fur on his lower back becoming a midnight blue color with white horizontal stripes that somewhat reach his front; he also has midnight blue markings over his eyes that merge into tearlines on his white muzzle. His hair, which is kept short, is black in color, and his eyes are also asparagus in color.
History
Childhood
Abilities
Base Stats
Stamina
Great
Strength
Great
Energy
Good
Durability
Average
Resistance
Average
Speed
Great
Reflexes
Great
Magic
Great
Kinesis
N/A
Intellect
Good
Other Stats
Eyesight
Great
Hearing
Superior
Olfactory
Superior
Like the other Water Clan soldiers, Hylifo is a fairly well-rounded fighter, who primarily excels in close-range combat; he wields a falchion, a one-handed, single-edged sword that is fairly heavy and hard-hitting, much like an axe. He is quite fast and agile, able to easily outpace slower opponents and evade their attacks; unfortunately, he is not terribly sturdy, and cannot take too many hits.
Hylifo is an adept Hydromancer as well, and primarily wields offensive, low to mid-tier techniques of the Water Element, such as Aqua Jet and Aquatic Shrapnel.
Water Abilities
Elementless Abilities
Status/Defensive Abilities
Resistances
Hylifo is relatively resistant to the Elements of Water and Fire (his Water resistance is somewhat higher, however). He is quite fast, and can easily outpace slower foes and evade their attacks.
Weaknesses
Hylifo is weak to the Elements of Electricity and Nature. His defenses aren't anything special, therefore he mostly relies on his agility to try and evade potentially devastating attacks.
Friends and Foes
Friends
Allies
Rivals
Enemies
Personality
Likes
Dislikes
Biggest Fears
Quotes
Notes
His name is the Welsh word for "liquefy".
Community content is available under
CC-BY-SA
unless otherwise noted.