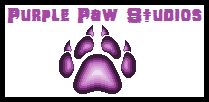 ~ This page is a creation of Purple Paw Studios ~
~~~~~~~~~~~~~~~~~
Basic Info
Full Name
Hemlock the Thylare
Species
Mobian/Thylare
(Thylacine/Hare crossbreed)
Alignment
Chaotic Good/Neutral
Appearance
Biographical Info
Personal Info
Skills and Abilities
Skills
Skilled w/ dual bagh nakhs
Abilities
Advanced combat
Powers
Florokinesis
Toxikinesis
Venom manipulation
Ryushusupercat/Hemlock the Thylare is a member of The Verdant Crusaders. Among them, he wields Poison as well as Nature, and can control the Advanced Element of Venom (a combination of Nature and Poison).
Physical Description
A lanky thylare (thylacine-hare hybrid) who stands at average Mobian height. Hemlock has eggplant fur with a lighter muzzle and chest, with darker, horizontal stripes running down his back; he also has a darker tail tip. His hair, which is rather long and messy, is black in color, and his eyes are Venetian red.
History
Base Stats
Stamina
Great
Attack
Great
Spcl. Atk
Good
Defense
Good
Spcl. Def
Good
Speed
Great
Reflexes
Great
Magic
N/A
Psyche
Superior
Intellect
Good
Other Stats
Eyesight
Great
Hearing
Superior
Olfactory
Superior
Apart from having a great deal of proficiency in the realms of Florokinesis and Toxikinesis, Hemlock is able to wield the combination of both of those elements, which is known as Venom. His weapon, a pair of bagh nakhs, make him exceptionally dangerous in close-quarters combat.
Resistances
Weaknesses
Friends and Foes
Friends
Allies
Rivals
Enemies
Personality
Despite his rather wild and aggressive appearance, Hemlock is actually a pretty laid-back guy, who's been known to be quite mischievous as well.
Likes
Dislikes
Biggest Fears
Quotes
Notes
See Also
Community content is available under
CC-BY-SA
unless otherwise noted.