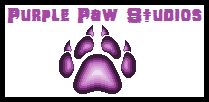 ~ This page is a creation of Purple Paw Studios ~
~~~~~~~~~~~~~~~~~
Basic Info
Full Name
Diellor the Fanaloka
Appearance
Description
Fur:
White and
quicksilver
Hair:
Rose red
Eyes:
Pearl aqua
Biographical Info
Personal Info
Occupation
Light Clan alchemist
Skills and Abilities
Skills
Skilled w/ dagger
Potions-making expertise
High intelligence
Ryushusupercat/Diellor the Fanaloka is an alchemist that serves the Light Clan of Celeritas.
Physical Description
A slender fanaloka who stands a little over three feet tall, Diellor has a medium-length, tapering snout with three whiskers on either side of his nose, somewhat small, rounded ears that stand upright, and a long, fluffy tail.
His fur is primarily white in color, with a broken line of quicksilver spots running down his back, shoulders, and thighs; he has more quicksilver stripes and blotches on his tail, and he also has silver markings around his eyes. His hair, which is short and somewhat messy, is rose red in color, and his eyes are pearl aqua in color.
History
Childhood
Abilities
Base Stats
Stamina
Good
Attack
Average
Spcl. Atk
Good
Defense
Average
Spcl. Def
Average
Speed
Great
Reflexes
Great
Magic
Good
Psyche
N/A
Intellect
Superior
Other Stats
Eyesight
Great
Hearing
Great
Olfactory
Superior
As an alchemist, Diellor excels in creating potions and elixirs designed to help his allies and harm his foes. Some of these elixirs include ones that cure poisoning and paralysis, ones that rejuvenate stamina, and even rarer, harder-to-make mixes that temporarily increase the consumer's healing factor.
On the more combat-based side, Diellor has created splash potions (essentially, potions designed to be thrown like a grenade) that can bring about a number of effects on the enemy, such as temporary blindness, a numbing effect that slows the motor skills, and more.
However, Diellor has little combative use outside of his potions, which is why he carries a dagger for extra protection. He is also capable of Solaramancy, but isn't as proficient with it as the soldiers and battle mages are.
Light Abilities
Elementless Abilities
Status/Defensive Abilities
Friends and Foes
Friends
Allies
Rivals
Enemies
Personality
Likes
Dislikes
Biggest Fears
Quotes
Notes
His name is the
Community content is available under
CC-BY-SA
unless otherwise noted.