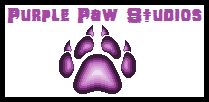 ~ This page is a creation of Purple Paw Studios ~
~~~~~~~~~~~~~~~~~
Basic Info
Full Name
Cysgodion the Skunk
Alignment
True Neutral/Good
Appearance
Color
Fur: Grayish blue w/ lighter muzzle, chest and tail stripes
Hair: Extremely dark grayish-blue
Eyes: Red
Description
Dark maroon jacket w/ lighter trim and golden spiked leather pauldrons
Earrings and studs
Dark maroon baggy pants
Dark maroon boots w/ lighter stripe
Brown fingerless gloves
Choker collar
Shoulder belt
Biographical Info
Personal Info
Occupation
Dark Clan soldier
Skills and Abilities
Skills
Advanced combat
Skilled w/ longbow and dagger
Ryushusupercat/Cysgodion the Skunk is a soldier that serves the Dark Clan of Voidstar.
Physical Description
Cysgodion has dark blue-gray fur with a lighter colored face, chest and tail stripe. His hair is a very dark shade of gray-blue, and his eyes, which are thinly ringed underneath, are red in color.
He wears a dark maroon jacket w/ lighter trim and golden spiked leather shoulder pads, some earrings and studs, dark maroon baggy pants, dark maroon boots with a lighter stripe across the front, brown fingerless gloves, a choker collar and a shoulder belt.
History
Childhood
Cysgodion was born into the Moonthunder Cult, and was raised to respect the power of the Dark Element, and never use it for malicious purposes.
Cysgodion was one of the soldiers who raided the G.U.N base under the belief that they had kidnapped Voidstar. He, along with the rest, ends up being captured by G.U.N mechas and held captive.
Abilities
Base Stats
Stats
Level
Stamina
Great
Attack
Great
Spcl. Atk
Great
Defense
Good
Spcl. Def
Good
Speed
Great
Reflexes
Great
Magic
N/A
Psyche
Superior
Intellect
Great
Other Stats
Eyesight
Great
Hearing
Superior
Olfactory
Superior
Dark Abilities
Elementless Abilities
Status/Defensive Abilities
Friends and Foes
Friends
Allies
Rivals
Enemies
Personality
Likes
Dislikes
Biggest Fears
Quotes
Notes
His name is the Welsh word for "shadows".
Community content is available under
CC-BY-SA
unless otherwise noted.