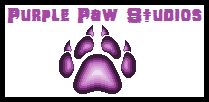 ~ This page is a creation of Purple Paw Studios ~
~~~~~~~~~~~~~~~~~
Basic Info
Full Name
Alcyone the Kingfisher
Appearance
Color
Feathers:
Cadet gray
, white and
cadet
Hair:
Dark byzantium
and black
Eyes:
dark raspberry
Biographical Info
Personal Info
Occupation
Wind Clan head battle magess
Skills and Abilities
Abilities
Energy-based combat
Ryushusupercat/Alcyone the Kingfisher (pronounced "ALL-see-ahn") is the head battle magess that serves the Wind Clan of Khazri.
Physical Description
A decently curvy pied kingfisher who stands at average Mobian height, Alcyone has a rather narrow, straight beak that is medium-length, and a medium-length, squared tail.
Her feathers are primarily cadet gray in color, with a white face, chest and stomach, as well as white bars on her tail. A thick, bold stripe runs from each eye to the back of her head, and she has two more bold stripes that reach from her back to most of her chest; these stripes are cadet in color, as is her beak. Her hair, which is mostly swept back in a sort of large crest that partially reaches to her neck, is dark byzantium in color with some black streaks, and her eyes are dark raspberry in color.
History
Childhood
Alcyone was born into the Wind Clan.
Abilities
Base Stats
Stamina
Good
Attack
Average
Spcl. Atk
Superior
Defense
Average
Spcl. Def
Average
Speed
Great
Reflexes
Great
Magic
N/A
Psyche
Superior
Intellect
Great
Other Stats
Eyesight
Great
Hearing
Great
Olfactory
Great
As a battle magess, Alcyone excels at dealing large amounts of Elemental/energy-based damage in a short amount of time, bursting down fragile opponents before they get a chance to touch her. She needs to rely on this strategy quite a bit, however, as she is fragile; any opponent who can get past her onslaught and retaliate with strong attacks of their own will be able to overwhelm her.
She is also quite fast, however, and this helps her evade slow opponents, ensuring they cannot get close enough to attack her; this also helps her dodge any slow-moving ranged attacks from her enemy.
She is a highly adept aeromancer, and primarily uses mid to high-level techniques of the Wind Element, such as Air Slash and Aeroblast.
Resistances
Alcyone is relatively resistant to the Elements of Wind and Nature (her Wind resistance is somewhat higher, however). She is also quite agile, able to dodge slow-moving opponents and attacks with ease.
Weaknesses
Alcyone is weak to the Elements of Earth and Electricity. Her defenses are subpar, forcing her to rely on her agility to survive.
Friends and Foes
Friends
Allies
Rivals
Enemies
Personality
Pellentesque habitant morbi tristique senectus et netus et malesuada fames ac turpis egestas. Vestibulum tortor quam, feugiat vitae, ultricies eget, tempor sit amet, ante. Donec eu libero sit amet quam egestas semper. Aenean ultricies mi vitae est. Mauris placerat eleifend leo. Quisque sit amet est et sapien ullamcorper pharetra. Vestibulum erat wisi, condimentum sed, commodo vitae, ornare sit amet, wisi. Aenean fermentum, elit eget tincidunt condimentum, eros ipsum rutrum orci, sagittis tempus lacus enim ac dui. Donec non enim in turpis pulvinar facilisis. Ut felis. Praesent dapibus, neque id cursus faucibus, tortor neque egestas augue, eu vulputate magna eros eu erat. Aliquam erat volutpat. Nam dui mi, tincidunt quis, accumsan porttitor, facilisis luctus, metus
Likes
Dislikes
Biggest Fears
Quotes
Notes
In Greek mythology, Alcyone was a woman who was turned into a kingfisher.
Community content is available under
CC-BY-SA
unless otherwise noted.