My name is MegaPhantaze. You may know me from Youtube and DeviantArt. I came here to bring up my made project called hero of Mobius. when doing the article for it, i got a sparkle to make fan characters. I own now over 20 characters, which is big number. I may be odd, but I am still trustable person.
Other sites
DeviantArt http://megaphantaze.deviantart.com/ 
Youtube https://www.youtube.com/channel/UCh4eEZNU0AT5JF--KrBYK8Q
Friend list
Monk the Cat (My first friend and assistant creator of Lumi the cat)
FroZenhyBrid (the one, who made me use Coral the hedgehog even more)
MrGameandfight(Really good friend and good talking buddy)
IamKenasxros(He is neutral guy, but I like him too)
Crimsonflame(I like him. We got good friends in Secrets of chaos roleplay)
Enemies
MetalTD(I have Friend/enemy relationship to her. She is the one, who is always fixing my typos)
Fan characters
In creation order:
Yukon the robot emperor (Villain)
Perish the skeleton (Villain)
Coral the hedgehog (Neutral)
Pilot the Blot (Hero)
Lumi the cat (neutral)
Kabo the Bomb  (villain)
Hazmat the toxic master (villain)
Crusifix the crusher (anti-villain)
Fletku the trashcan(Anti-villain)
Rico the cat (hero, who turned neutral. Also my fursona)
Zircon the Cat(Hero)
Tango the Hedgehog(neutral)
Karti masters (all of them except raske and newcomers)
Status and current
Status
Online, almost always
Currently doing
Listening to music and drawing
Favorite video game characters
1.Blaze the Cat
2. Dr Nastidious (Test subject series)
3. Crystal Man (mega man 5)
4. Mr Dark (Rayman)
5. Wario
Good
Gentle, smart, Creative, respecting
Bad
Big mouth, overstating
Likes
Games, puzzles, Music
dislikes
arguments, boredom
Fursona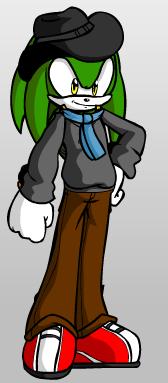 Community content is available under
CC-BY-SA
unless otherwise noted.