My Status
Feeling: Omnomnom-ish
Thinking: Nothing.
About Me
There isn't really much to say about me. I'm a green loving, drum playing, cool sweet and sensitive guy who knows how to treat a lady and loves life. Also I will be making a few articles about certain people on mobius like Tails, Silver, Manic, and maybe some other fanfiction characters. Hope you enjoy my work!!!!!!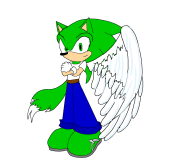 Me
Age: 15 (but sometimes my actions speak higher than that)
Gender: Male/Straight (PERIOD)
Favorite Color: Green
Instrument: Drums
Religion: Christian
Skin Color: White
Origin: USA
Ancestry: Scotch Irish
School: Homeschooled
Likes: Reading, video games, tv, computer, making friends, meeting friends, sonic, mario, ect.
Dislikes: Bullies, cussing, fighting, ect.
Romace Status: Single
Political Status: Conservative
Siblings: User:GeneralKnight, and User:ShadowDragonKnight
Friends: You know who you are. :3
Nicknames
D-star
CHIBI MASTA
My Favorite Bands
Signature Test
My life is all for God. Deal with it. 02:15, August 25, 2011 (UTC)
Next time you see me...I just might not be there. 19:19, January 10, 2012 (UTC)
Sing the Anthem of the Angels.........And say your last goodbye. 13:52, July 2, 2012 (UTC)
Cheese Graters for everyone! The Narwhal King commands it! All hail King Jay Jay! 22:24, July 30, 2012 (UTC)
My Parable
"Well, if the days of my own life permit me farther than I might seek, May the God of all Creation make my life abundant and great. Only He can show me my weaknesses and strengths, and only He can give and take away. So I swear my life to do his bidding and follow the lifted up, until I can no longer see the light of day. God watches over me and makes my life the way it is. I shall always follow Him until the world is made new..." 
My Fanfic Characters
Characters
Chao
Quake (Geo)
Shifter (Renegade)
Skylar (Isaiah)
Gaia.exe (Geo)
Enigma.exe (Renegade)
Charas
My Fandom Likes
Pokemon
Megaman
Digimon
Golden Sun
RVB
Yu-Gi-Oh!
Teams
Battle Themes
Community content is available under
CC-BY-SA
unless otherwise noted.