Lyra Robinson is a character created by Darkest Shadow. She is a 11 year old girl living in New Bark Town, and the younger sister of Louis Robinson. Unlike her brother, she stayed with her host family and was never adopted. She currently is traveling through the Hoenn region.
Information
Full Name: Lyranda "Lyra" Megan Robinson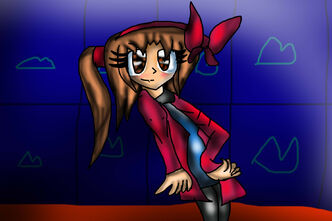 Age: 10-15
Sex: Female
Species: Human, Angel
Hair Color: Cocoa Brown
Skin Color: Peach
Status: Single
Voiced by: Eileen Stevens
Physical Appearance
Attire
Lyra wears a red hairband that makes her look more stylish to others. She also wears one hair barret to have a pony tail. She also wears a burgundy jacket, with a blue shirt inside it.  In addition, she wears gray pants that matches her collar.
Battle Wear
Lyra has a white woolen hat with a red bow on it. Also her hair is in a bundle inside with short pig tails. Her collar is white which matches her hat, and she wears a black tank underneath it. On top is a red long sleeve shirt, with blue overalls including a poke belt hidden in her overalls.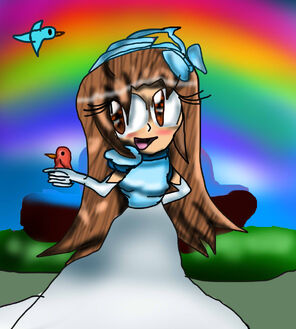 Fancy Wear
Her hair is free. Although she does wear a white tiara made from ice clear snow and crystals. She also wears a baby blue ruffled shirt with long white gloves. She also wears a beautiful white gown that extends down to the floor up to 6 ft. 
Personality
Lyra is a somewhat naive type of person. She is very polite but she is also a bit impatient. She likes to rush through things like a few other people. She is happy when she wins a pokemon contest or a figure skating competition. She is sad when she loses either of them. She is angry when her rivals win competitions. She is also happy when she or someone else saves her pokemon.
History
Coming Soon...
Skills
Abilities and Powers
Achievements
Sinnoh Leauge: Top 32
Pokemon Contest Grand Festival: Top 8
Figure Skating Junior Cup: N/A
Figure Skating Senior Cup: Runner-Up
Figure Skating Super Senior Cup Appealed
FIgure Skating Worldwide Senior Cup-  Top 8
Grand Festival: Top 4
Community content is available under
CC-BY-SA
unless otherwise noted.