Voltrex the Vulture, is a Male Vulturian, he is the lead Scientist of Dragoonworks.
Biographical Information
Age
21
Birthplace
Vulturia-7
Physical Description
Species
Vulturian
Gender
Male
Description

Feathers: White
Eyes: Blue
Two large scars on his back

Attire
Height
5'7'
Weight
75lbs
Political Alignment and Abilities
Affiliations
Dragoonworks
Abilities

IQ of 375
Controls the power of Storms
Able to regenerate limbs

Other Information
American V.A.
Japanese V.A.
Theme Song(s)
Appearances

None

Original Creator
Chembur
History
Paradox Chronicles
Voltrex plays a very minor role in the Paradox Chronicles, he along with Tails and Samantha are the Brains of The Paradox Team. Voltrex normally stays at the HQ building new devices.
Dragoonworks
Voltrex is the Lead Scientist, and Second in Command of the Hero Organization called Dragoonworks. While Working as a member of Dragoonworks, Voltrex has recieved many achievements, some of which, were Creating the Clawbot 2.0, Designing and Building Cyber City, Even assisting in the Creation of The Great Gaia.
Cyber City
Voltrex is actually the leader of Cyber City. He is rarely seen on the streets of Cyber City, but he does attend the annual EX Grand Prix.
Personality
Voltrex is normally laidback, but when working on a new piece of tech, he doesn't give up until either A) its finished, or B) damaged beyond repair. Voltrex also takes great offense to being called wingless, as his wings were removed with a laser after joining the Dragoonworks Army (led by Claw), while he was conscious. While he can regenerate limbs being a Vulturian, he cannot regrow his wings however. There are two large scars on Voltrex's back where his wings once were. Voltrex is not very social, as he has been surrounded by nothing but machines for more than half of his life.
Abilities
Voltrex has the power to Control Storms (able to control Thunder and Lightning). Due to being a Vulturian, he can regenerate his Arms, Legs, and even his Head! Voltrex was placed as the Lead Scientist, as he has an IQ of 375. Voltrex carries around with him a small handle that when activated, activates an electrical connection which becomes an Electrical Dagger. He also can control a Large robotic dragon (called the ALPHA Dragon) he can summon this Dragon by activating the Symbols on his labcoat (they are activated when Voltrex says a certain code).
Trivia
Gallery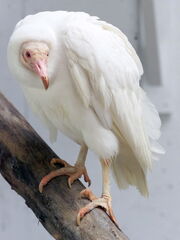 Community content is available under
CC-BY-SA
unless otherwise noted.