Rampart the Rhino is the Powerhouse of Dragoonworks, He is currently the only Mobian to wear a pair of Bio-Claws.
Biographical Information
Age
36
Birthplace
Unknown
Physical Description
Species
Rhino
Gender
Male
Description

Bluish-Gray Skin
Light-Gray Chest/Horn
White Muzzle

Attire
Height
9ft
Weight
250 lbs
Political Alignment and Abilities
Affiliations
Dragoonworks
Abilities
Super Strength
Other Information
American V.A.
Japanese V.A.
Theme Song(s)
"Advertisement" SA2 Options Menu
Appearances

None

Original Creator
Chembur
History
Paradox Chronicles
Rampart plays a Minor Role in the Paradox Chronicles, as he would only come along on missions that required his strength.
Dragoonworks
While Rampart was not a member of The Dragoonworks Army, he did assist Voltrex for most of the time however, Infact, it was Voltrex who designed the Special Rhino (often called Blazing Rhino or Vulcan Rhino) Bio-Claws. Rampart does not appear that much as he is mainly busy up in the north, foiling Dr. Extractor's plans, again, and again, and again.
Personality
Rampart has the attitude of an easy-going bounty-hunter, without a care in the world. However while on missions, he stays focused at all times. Rampart's never backs down from a fight that is issued to him, and will glady accept fights from those larger than he is (although he is 9ft).
Abilities
Rampart wears a pair of Bio-Claws that: Increase his strength ten fold, Reflect Lasers,it has a buit in laser blaster, buit in grapple claws, and a Reflect Shield. Rampart also has all the skills he had previously as a Bounty Hunter.
Trivia
Gallery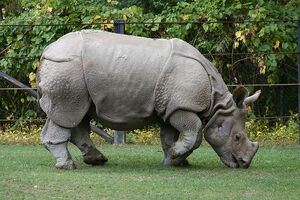 Community content is available under
CC-BY-SA
unless otherwise noted.