Info & Stats
Name: rJ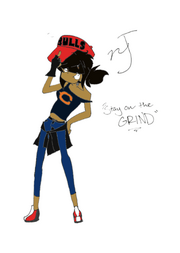 Gender: F
Alias:
Homie
Like A Boss
Tomboy
Waffle Boss
Likes:
Having fun, swimming, tennis, judo, drawing, writing, math, sports, punching the bag, waffles, milk duds, small objects, competition, UFC, NFL, NBA, NHL, kickball, tug of war, turtles, fish, comics, silver
Dislikes:
People texting stupid things, watching golf, show offs, bossy people, drama queens, brocolli, dark colors, depressing stuff, burning hot weather, mary-sues
Strength: 7/10
Speed: 4/10
Flexibility: 2/10
Technical: 5/10
Intellegence: 9/10
Requests
ARE OPEN!!!!! Check Bladesparkz on Deviantart when I tell you I'm done!!!!!!
Oh BTW I am trying REALLY HARD TO LEARN HOW TO USE MY DRAWING TABLET so once I get good at it requests will actually be like... made on the computer.
My Characters
Forte the Coyote (COMING REAL SOON)
Heartburn (not what you think) the Cat (COMING A LITTLE LATER THAN SOON...)
Dominic the Bat (CS)
Shock the Falcon (CS)
Tide Acorn (CS)
Sola E'clipz (CS)
Luna E'clipz (CS)
Ricki the Hedgehog (CS)
Plex the Falcon (CS)
Trek the Wolf (CS)
Coal the Squirrel (CS)
Shakira "Kira" the Cat (CS)
Jetfire Wolf (CS)
Skyefire Fox (CS)
Rocketfire Hedgehog (CS)
Sparkz the Fox (CS)
Mizu'tenshi Wolf (CS)
Argentum the Wolverine (CS)
Aurum the Wolverine (CS)
Friends!!!
Frost the Wolf - REALLY COOL FRIEND!!!! My first on ths website! Also my first rping partner AND the first on to ask for a request!
TheDarkMantis15 - A straight up BOSS person! And a great friend! He's the person that inspired me to get on more frequently because of how social he is!!!
Kiramazing - Uhm... Well, I'm more connected with her over Deviantart, and I haven't made any contact with her over this website, but she still seems really cool and a friend's a friend! XD
Monk the Cat - Suuuuuuuuuuuuure. Even though I haven't made a lot of contact with him he still seems pretty cool. 
AntiFactor - A boss girl who's new to the website and with a goal in mind. I'll be working a lot with her on my anti characters, so it should be really fuuuuuuuuuuuuuuuuuuuuuuuuuun!!!!
YoungEezy27 - Pretty cool dude! We're doing a bunch of roleplays together!!! Can't wait to rp more!!!!!
Friend Whose Parents Don't Want Her Doing This So I'm Doing It For Her Characters (KrystallineWarrior)
Poisonberry the Doe (Permission Needed)
Speedemon the Hawk (PN)
Bethany the Bunny (PN)
Spur the Fox (PN)
Miranda the Doe (PN)
Blade the Daredevil Fox (KW) (PN)
Charollette the Chicken (PN)
Shortfuse the Rat (PN)
Silicon the Bat (PN)
Pure the Porcupine (PN)
Mercedes the Fox (PN)
Comet the Bunny (PN)
Roleplay's I'm Involved In
Community content is available under
CC-BY-SA
unless otherwise noted.