United Federation Federal Patrol

Formation
February 19th, 1891
Motto
"Building Commmunities"
Commissioner
Commissioner Miranda the Fox
Number of sworn officers
750,000
Affiliation
United Federation
Funding per year
1,020 million UF$
Standard Issued Patrol Vehicle
Federal Pursuit Vehicle
The United Federation Federal Patrol, simply regarded as the Federal Patrol, is a Federal agency that is affiliated with United Federation. The Federal Patrol has a reputation of having very aggressive tactics when it comes to pursuing and arresting national and international criminals. The Federal Patrol tends to drive their vehicles head-on into a running suspect, resulting in the suspects being run over. Most of their tactics involve some sort of use of a high-powered firearm or vehicular force to the point of death. The United Federation Federal Patrol is in charge of enforcing federal laws and State highway laws. The Federal Patrol is also tasked to wipe out any being that has been deemed "Enemy of the State" or "Public Threat". Despite the excessive force when it comes to chasing down criminals, the Federal Patrol has a well funded system and has been rated 2nd on Mobius for the least corrupt Law enforcement.
Description and Frequency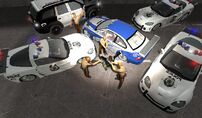 The United Federation Federal Patrol is somewhat common to encounter. There are over 750 stations nationwide and Federal Patrol Officers are seen more around their assigned station or in the Interstate highways. The Federal Patrol's Headquarters are located in Station Square which 1250 employees work around the clock managing investigations and policing issues in the country. Despite being seen mostly on interstate highways, the Federal Patrol has 7 complete and operational divisions. These divisions focus on different sections of law enforcement, to protective policing measures. The Federal Patrol is seen commonly in urban centers, often talking with pedestrians or local/state authorities.
Uniforms
General Duty
The General Duty uniform of the Federal Patrol contains a short-sleeved beige shirt, a utility belt, and beige pants with a dark red stripe at each side. Changes of the uniform happened recently, as a massive reform went into place by the president.
Formal Uniform
The formal uniform shows attire from the real life Californian Highway Patrol but with several differences.
E.R.T Uniform
The E.R.T (Emergency Response Team) Uniform shows tactical navy blue gear and a bullet proof vest reading "E.R.T" or "POLICE/POLICIA" depending on what state they're in. Other uniforms, such as
I.S.S and N.P.S Uniform
N.P.S (National Policing Service) and I.S.S (Internal Security Service) wear business attire. Optional Clothing includes a vest saying either "FEDERAL POLICE" "I.S.S" or "N.P.S" on the vest.
F.B.S.S Uniform
The F.B.S.S (Federal Border Security Service) Wear the General Duty uniform but with a Brown vest reading "FEDERAL". However, the members of this division wear a brown cap reading "UFFP FBSS"
National Coast Guard Uniform
The National Coast guard for the Federal Patrol wears the General Duty uniform with customized patches reading "FEDERAL PATROL" and below, "COAST GUARD".
H.R.E.T Uniform
The H.R.E.T (Human Rights Enforcement Team) wears a black uniform with "HUMAN RIGHTS ENFOCER" on the back.
Special Police Uniform
The Special Police has a uniform that is navy blue, a customized badge reading "SP" on it, a customized patch reading "SPECIAL POLICE", and a Navy blue Police cap with the Federal Patrols' logo on it.
Winter Uniform
The United Federation Federal Patrol's winter uniform consists of a brown coat over a beige long-sleeve shirt and a blue tie. They also wear the same pants of the summer uniform and the officers' shoes are replaced with beige boots. The Federal Patrol has also supplied gloves for officers to use and a fur Russian type hat with the Federal Patrol's Logo for winter use.
Other Winter Uniforms
Quite strangely, only the N.P.S and the E.R.T has winter uniforms, which both consist of a navy blue coat customized to be "Bulletproof" and gloves.
History
Being revamped

Ranking System
The United Federation Federal Patrol has a revamped ranking system to go with an officers' rank in the Federal Patrol. They are separated into two categories as the Special Police and E.R.T wears a unique insignia for their divsion.
| Rank | Description |
| --- | --- |
| Commissioner | The being that controls all of the Federal Patrol. Maximum: 1 |
| Deputy Commissioner | A being that controls a large division of the Federal Patrol. Maximum: 2 |
| Assistant Commissioner | A being that controls a medium portion of the Federal Patrol within authority of the Commissioner. Maximum: 3 |
| Commander | A being that commands a large portion of officers, usually is the primary supervisor. Maximum: 16 |
| Chief Superintendent | A being that manages Superintendents and advises the Commissioner of any problems. Maximum: 23 |
| Superintendent | A being that controls a small portion of officers, however, is responsible for any problems of Supervisors below this position. Maximum: 41 |
| Inspector | The first commissioned officer, a being that aids superintendents by making sure no corruption nor complaints aren't reviewed. Maximum: 150 |
| Staff Sergeant Major | A previous Commissioner or previous high ranking figure of the Federal Patrol. Current: 11 |
| Staff Sergeant | A Sergeant that manages a district, usually is seen in Televisions for interviews for any crime scene. Maximum: 2,100 |
| Sergeant II | An experienced sergeant, a sergeant that has been a sergeant for 1.2 years. Manages officers. Maximum: 2,750 |
| Sergeant I | A supervisor for General Duty officers. Maximum: 14,900 |
| Corporal | An officer that manages a few officers during active patrols. While they're aren't in the Sergeant ranks, they do have power over Officers. Maximum: 74,020 |
| Senior Officer | An experienced officer, most officers that have been in the Patrol force for 10 years without ranking up end up here. Maximum: 109,200 |
| Federal Patrol Officer | A standard patrol officer usually seen patrolling. Depending on what division they belong, may have specific tasks. Current: 546,765 |
| Cadet | A non-official member of the Federal Patrol, rarely seen. Cadets are in training. Current: 3,500 |
These ranks imitate the average real life US and Canadian ranking systems.
Divisions
(IN PROGRESS)

Sepcial Police
United Federation Federal Patrol has a special internal department named the Special Police. The Special Police works as a domestic department for handling corruption of high level leaders and officers. The Special Police drives a semi-unique undercover variant version of the Federal Pursuit Vehicle.
The Special Police formed in 1973 when the Federal Patrol had difficulty in tracing and eliminating a terror suspect. The Special Police was named the Special Squad and it was originally going to be a temporary squad until the threat was over. It took initially five days until they found the terror suspect and the Federal Patrol took the suspect into custody. While they had few members at first, they grew later.
Emergency Response Team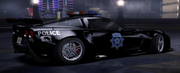 The Emergency Response Team, or E.R.T, is a team of devoted and highly trained members of the Federal Patrol. These members are dispatched during active terrorist events. Often armed with the MP5A1, these officers are skilled with heavy arms. Funded in 1997 when a shootout happened with 2 suspects with military grade weapons and armor, these officers differ from all the other divisions. As they use a marked variant of the Federal Pursuit Vehicle, instead of a black variant. This vehicle, however, is rare since it really isn't used for emergencies.
Community content is available under
CC-BY-SA
unless otherwise noted.