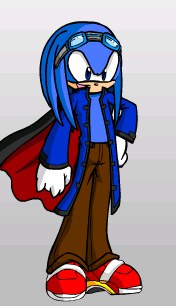 He is an echidna that lives in Seaborgia, as the Water Leader.
Thomas the Echidna

Age

16

Likes

friends, his strength, technology(although he was not really good at it), wind, fire, outdoor games

Dislikes

Rey, bad guys, anyone who hurts his friends, viruses, evil, darkness, negativity

Aliases

Blue Strength, Cockroach, Water Leader

Alignment

Good

Type

Strength

Skills

Giga Punch, Water Uppercut, Hydro Punch, Super Strength (like Knuckles)

Fusions

Jomas (Thomas & Josh)

Hometown

Tide Typhoon Castle in Seaborgia

Height

3'8 ft

Weight

40 kg

Occupation

Leader of Seaborgia

Learned Elements

Water & Ice

Birthplace

Seaborgia
Abilities
He is a strong echidna that blows painful punches. His abilities are:
Giga Punch
Retaliate Punch
Hydro Punch
Unli Punch
Tidal Uppercut
Weaknesses
He is weak to electricity. He gains more strength than intellect so he plans about taking his enemy down in a battle slower than others. But his intellect is a little bit higher than Rey 's. He gains more damage to elements except water and fire.
Friends
All Josh's Friends except Rey
Rivals
Rey the Hedgehog
Jetris the Hedgehawk
Enemies
Quotes
Ooh yeah! -getting an S-Rank
Yes! -getting an A-Rank
OK! -getting a B-Rank
Next time I'll try hard! -getting a C-Rank
Man... -getting a D-Rank
I nearly failed! -getting an E-Rank
Well, I'll beat you! -start quote vs Rey
OK, let's start this, bestfriend... -start quote vs Josh
Let's see how Josh's sidekick fight me! -start quote vs Jess
OK, it's Rey's sidekick or whatever... -start quote vs Koji
Well, I'm battling Earth Leader! -start quote vs Jetris
OK, I have the advantage! -start quote vs Louie
It's strength vs speed! -start quote vs Jack
Whoa, I'm facing this pretty one... -start quote vs ?????
Jackpot! -when scoring a K.O.
Argh! -when getting K.O.
Eat this! -when preparing for his super skill
Yes, beated ya down! -defeated a boss
Oh yeah, I defeated the last one! -defeated the final boss
Yeah, I showed you my strength! -damaged the enemy by half
Well, you're not good yet... -damaged by the enemy by half
Trivia
He is a strength-type echidna.
He is weak to electricity.
He plans for a battle slower than others.
His intellect is higher than Rey.
Community content is available under
CC-BY-SA
unless otherwise noted.