Voted Best Location for Winter 2014!
The Blitz Pit is a famous, 45 year old fighting arena located in the south-western corner of Greenflower City. Here, many people have signed up to become official fighters at the Blitz Pit, although anyone is welcome to participate in an event. Battles take place just about every day, although after every big event, such as a tournament, they will take a break for a few days.
The Way Things Work
When not in a tournament, people challenge each other depending on their ranks. They can only challenge people of the same rank or one rank higher. Each victory gains them Rank points needed to advance to the next level, while each loss penalizes them with a point reduction. The figher must reach at least 100 points to advance, but cannot fall below zero without going back. The amount of points gained or lost depends on the rank; Higher ranks gain less points and lose more, while lower ranks gain more points and lose less. There is a point bonus for beating somone of a higher rank, but losing to them has consequences. Losing to someone of a lower rank has a devastating point reduction which only gets worse the higher your rank.
The ranks are labeled in this order, from best to worst: Champ, S, A, B, C, D, E, F. New fighters start at Rank E. The only way they can reach Rank F is if they suffer from such a losing streak that they fall below E.
Rank Point Scaling
Rank
Victory Reward Points
Defeat Point Reductions
Champ
------
-100p
S

5p

+100 for Higher Rank

-30p

-10 for Higher Rank

-25 for Lower Rank

A

10p    

+5 for Higher Rank

25p


-10 for Higher Rank

-20 for Lower Rank

B

15p    

+10 for Higher Rank

20p


-10 for Higher Rank

-20 for Lower Rank

C

15p    

+10 for Higher Rank

15p


-10 for Higher Rank

-15 for Lower Rank

D

20p    

+15 for Higher Rank

10p


-10 for Higher Rank

-10 for Lower Rank

E

25p    

+15 for Higher Rank

5p


-10 for Higher Rank

-5 for Lower Rank

F

30p    

+20 for Higher Rank

---------

There are at least 3 tournaments held each year. The biggest and most well known one is the annual World Tournament, held every summer. In the World Tournament, people come around from all over the world to participate in the battle for the title of champion.
The other two are held in the winter and springtimes. The Emerald Tournament is hosted in the spring, and seems to be the most basic of the tournaments with nothing really special about it. Few people outside the Blitz Pit participate in this, as it's mainly focused on the registered fighters. The Winter Tournament is focused on teams of two or three, (they alternate each year,) making it much more unique.
Areas in the Pit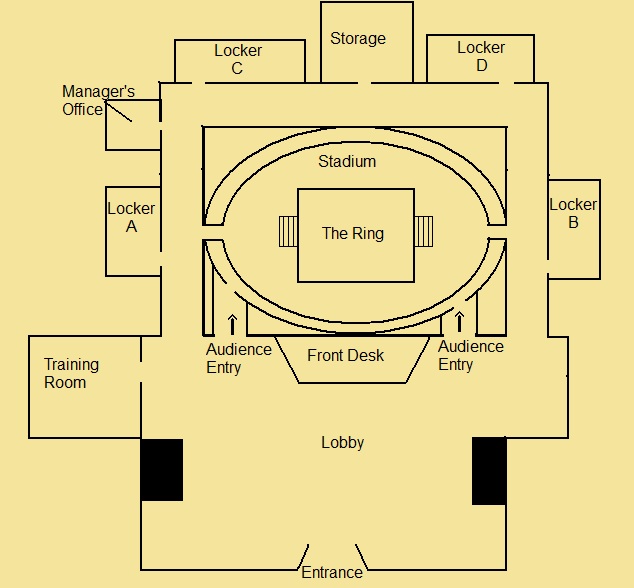 Registered Fighters
While just about anyone can come in and fight a couple of matches, only the fighters who are actually signed up can move up the ranks and gain pay for the battles. Here is a list of some of the more known fighters in the arena.
Active Fighters
Former/Missing/Deceased Fighters
Kaine Abbanc The Echidna (Retired)
David The Echidna (Deceased)
Paul The Bear (Deceased)
Brian The Hedgehog (Expelled)

While there are many more than what was listed here, these are the ones that have had any relevance to the series.
Trivia
It's quite obvious that the name and concept was a parody/based off of the Glitz Pit from Paper Mario. The Blitz Pit sort of evolved into it's own place, but it still has many similarities.
The Blitz Pit was one of the earliest locations ever created in the series, second only to Hedgehog Park in the same city.
There are certain pay and rank point bonuses that one can gain through certain achievements, such as defeating everyone within your rank once or scoring both a knock out and a ring out simultaneously.
Community content is available under
CC-BY-SA
unless otherwise noted.