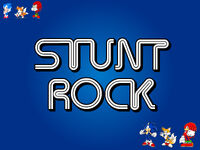 Stunt Rock is a fanfic by BearfootTruck. In this fic, Sonic is a professional movie stuntman who also plays lead guitar and does lead vocals for a local rock band. However, he also moonlights as a car thief, and after stealing one particular car, he is offered the opportunity to take down one of the country's most notorious car thieves.
Synopsis
After stealing a 1970 Mustang Mach 1, Sonic – a stuntman/rock group frontman – is arrested by Silver, who is working for the San Santos Police Department. Silver offers him a deal: help him investigate a string of auto thefts in the city in exchange for the charges being dropped. Sonic accepts, and he is sent off to find the prime suspect, known only as Shadow. With no leads but a grainy photograph, Sonic decides to continue his thieving ways, hoping to draw out the suspect. While attempting to steal a 1970 Trans Am, he is threatened by the owner of the car, who is none other than Shadow. Rather than killing him, Shadow offers to take Sonic under his wing. The Blue Blur accepts, and he is to begin the next day. Unbeknownst to Shadow, Sonic has fallen in love with him.
The next day, Sonic, Tails, Knuckles and Amy head to an automotive shop that Shadow uses as a legitimate business. The shop is also run by Shadow's friend Rouge. Shadow lays it down for Sonic and co.: they are to steal 50 cars by the end of the week. A previous crew had attempted to do so and failed, leaving them with precious little time to complete the task. After scouting out the city, Sonic, Shadow and the rest of the crew begin stealing the required vehicles, which include luxury cars, tractor-trailer trucks, classic cars and supercars, all of which have been given female codenames so as to not attract police attention. Meanwhile, Sonic continues doing legitimate stunt work and playing with his band.
A few difficulties arise during the operation. First of all, Knuckles steals a Cadillac Eldorado that wasn't on the list. Even worse, the car is found to be carrying a massive quantity of heroin. When Shadow finds out, he tries to have Knuckles killed and orders the car blown up. On another note, Sonic accidentally lets slip to Amy that he has a crush on Shadow. She tells Shadow, and he confronts Sonic about it before revealing that he too had a crush on the Blue Blur. Their first date is a little awkward, but the Ultimate Life Form finds that he genuinely enjoys Sonic's company.
Another complication arises when Silver discovers that Sonic is dating Shadow and threatens to have him arrested for going native. However, he lets the Blue Blur go when he promises to have Shadow taken down by noon on Sunday. Realizing that there's no way that the San Santos PD could possibly watch all the cars, he chooses instead to stake out one car in particular: a 1978 Pontiac Macho Trans Am, nicknamed "Eleanor".
In spite of the heat level, Sonic elects to steal Eleanor – whose owner resides at the Universal Tower in Short Beach – anyways. He ends up leading the police on a chapter-long chase in which a bunch of vehicles are wrecked. Eleanor suffers severe damage during the chase, but Ol' Blue elects to bring the car to Shadow anyways, figuring that it must still be good if it's still driveable. Unfortunately, Shadow not only rejects the car, but has found out that Sonic is secretly working with the police, so he tries to kill him. However, thanks to some special gloves that Tails gave to him, Sonic manages to hold his own against Shadow. Eventually, Shadow is weakened sufficiently, much to his shock, and he pleads with the Blue Blur not to kill him. Sonic declines to kill him because he loves him too much. He even promises to do whatever he can to make sure Shadow gets a reduced sentence. They end up sharing one last hug before Shadow is carted off, and Silver congratulates Sonic on a job well done.
Sonic Says
Shadow and Tails are in the Maplewood Central Parking Garage, where Shadow promises a large sum of money to Tails for stealing a Camaro. However, Sonic intervenes and explains the penalties for auto theft, even suggesting alternatives such as mass transit or ride sharing.
Characters
Main
Minor
Comedy Chimp
Daniel Slusarczyk (passenger in Plymouth during van chase)
Jeffrey Tandberg
Eddie Fabian (first crewmember attending to van)
Johnny Krall (second crewmember attending to van)
Anthony McCrory (MC at Uncle Roy's)
Dirk Ziegelmayer
Oswald Perreault (owner of Carmen)
George Carpenter
Vivien Alserda
Felicia Waterman (owner of Nicole)
Jim Dixon
Ines Silva (maître'd at Chili's)
Alicia Ormond (waitress at Chili's)
Wizardaxe:

Norman Banister on rhythm guitar/lead vocals
George Hathaway on lead guitar/backing vocals
Max Edwards on bass
Albert Hale on drums

Hugo Yoxall
Ernie Dane (cashier at DeSantis Pizza)
Angelica Magro (waitress at DeSantis)
Larry "Iron Arms" Filipowski
Tomila Hayter (Filipowski's assistant)
Peter MacKay (Filipowski's assistant)
"Piledriver Jim" Henry
Cory Mason (guy with gasoline)
Michael Blanco (guy with matches and fire extinguisher)
William "Tell" Appleton
Walter Appleton
Eugene Campo (heckler who shouts at Comedy Chimp)
Joe Johnson
Lyndon Edison (Joe Johnson's assistant)
Payhauler:

Abigail Sarelli on lead guitar/lead vocals
Suzie Arsenault on co-lead guitar/co-lead vocals
William Minerva on bass/backing vocals
Gary Minetti on drums

Kaitlynn Tatler
Detective Al Stevenson
Officer George Spellmeyer (driver of 5-Adam-13)
Officer Carl Flanagan (passenger of 5-Adam-13)
Nadine Vidal (SSPD dispatcher)
Officer Shanelle Terranova (driver of 77-12)
Officer Kirk Aggio (passenger of 77-12)
Officer Denver Blumenthal (77-13 Mary)
Officer Paul Palomo (77-15 Mary)
Sergeant Kevin Ruggeri (77-S4)
Officer Kyle Bullens (pilot of H-58)
Officer Maury Cox (driver of 77-14)
Officer Dean Hopson (passenger of 77-14)
Officer Carmine Denman (driver of 77-14 Ida)
Officer Morgan Rhodes (passenger of 77-14 Ida)
Officer Dina O'Connell (driver of 77-22)
Officer Olivia Addicks (driver of 77-28)
Saundra Ratti (EHP dispatcher)
Movie crewmembers
Concertgoers
Mobsters at King Fanucci
Guys watching soccer game at DeSantis
Crowd at the San Santos Memorial Coliseum
Motocross racers
Theatergoers at Armandson Theatre
Onlookers during Sonic and Shadow's battle
SSPD officers
EHP officers
SSFD firefighters
SSFD paramedics
Trivia
Though the fic is named for the 1978 Australian movie Stunt Rock and shares a number of plot elements, a good portion of the plot is also taken from Gone in 60 Seconds.
The first chapter is a shot-for-shot recreation of the intro sequence for the video game Driver.
This fic marks the second appearance of Sonic's band The Diesel Cats.
Sonic's unsupported freefall from the Columbian Bancorp Tower is a reference to a stunt pulled by stuntman Dar Robinson from the Hyatt Regency Hotel in Atlanta for the filming of Sharky's Machine.
Sonic calling Shadow "Jim" is a reference to Jim Phelps from Mission: Impossible and the Man on Tape's message: "should you or any of your IM Force be caught or killed, the Secretary will disavow any knowledge of your actions".
The complete list of cars is as follows:
| CAR | CODENAME |
| --- | --- |
| 1972 Cadillac Fleetwood 75 | Karen |
| 1971 Chevy Caprice convertible | Brittany |
| 1976 Ford LTD Landau | Erica |
| 1975 Lamborghini Countach "Walter Wolf" | Melissa |
| 1978 Ferrari 308 GTS | Lillian |
| 1977 Mercedes-Benz 450 SEL 6.9 | Chantal |
| 1970 Dodge Challenger R/T | Angela |
| 1971 Chrysler Imperial | Sarah |
| 1976 Mack Cruiseliner | Kaitlynn |
| 1976 Ford F-250 | Paula |
| 1972 Lincoln Continental | Loretta |
| 1977 GMC Suburban K-15 | Carmen |
| 1974 GM New Look | Victoria |
| 1975 Rolls-Royce Silver Wraith II | Olivia |
| 1973 Cadillac Eldorado | Gloria |
| 1972 Plymouth Fury III | Cheryl |
| 1974 Dodge Monaco | Freya |
| 1970 Chevy Nova SS | Dawn |
| 1973 Oldsmobile Ninety-Eight | Caroline |
| 1978 Alfa Romeo Sport Sedan | Kayla |
| 1976 Lancia Scorpion | Linda |
| 1974 BMW 3.0 CS | Gabrielle |
| 1972 Corvette Stingray | Jenna |
| 1977 Lotus Esprit | Barbara |
| 1970 Plymouth GTX | Melanie |
| 1971 Ford Capri | Nicole |
| 1973 Buick LeSabre | Louise |
| 1975 Bricklin SV-1 | Lorraine |
| 1974 De Tomaso Pantera GTS | Mary |
| 1976 Chevy Cosworth Vega | Janice |
| 1971 Lamborghini Miura S | Brenda |
| 1972 MG Midget | Doreen |
| 1973 Cadillac Sedan DeVille | Sheena |
| 1975 Jaguar XJ12 | Leah |
| 1970 Meyers Manx | Penny |
| 1974 Mercury Marquis | Andrea |
| 1970 Oldsmobile 4-4-2 | Sabrina |
| 1970 Ford Torino Cobra | Wendy |
| 1972 Ferrari 365 GTB/4 "Daytona" | Anita |
| 1975 Mercedes-Benz 450 SLC convertible | Lara |
| 1972 Pontiac Grand Ville | Joanna |
| 1975 Chrysler Cordoba | Claudia |
| 1973 Stutz Blackhawk | Rita |
| 1971 Ford LTD convertible | Sophie |
| 1977 Dodge Ram M880 | Millie |
| 1973 Chevy Van G-20 customized | Grace |
| 1971 Oldsmobile Toronado | Nancy |
| 1976 Lincoln Continental Mark IV "Givenchy" | Hillary |
| 1970 Dodge Coronet Super Bee | Cindy |
| 1978 Pontiac Macho Trans Am | Eleanor |
The King Fanucci Social Club is a reference to the character of Don Fanucci from The Godfather Part II.
Cadillac really did have a mink coat test for testing seat fabrics. When exactly they did this is unknown.
George Carpenter is named for George A. Romero and John Carpenter.
While the first-gen Ford Capri was indeed sold in the US, it was sold through Mercury dealerships.
Charmy being "at the wrong gig" is a reference to drummer Steve Moore, who has a unique style of drumming.
In both the original version and remake of Gone in 60 Seconds, Eleanor was a Mustang, a 1971 Mustang SportsRoof in the original, and a 1967 Mustang Fastback (dressed up as a Shelby GT500) in the remake. In this story, Eleanor is a Trans Am.
Eleanor's license plate in this story is an abbreviation of "Sonic the Hedgehog" and a recurring reference to the release date of June 23, 1991 of the first Sonic game.
Knuckles stealing the heroin-laden Eldorado is another Gone in 60 Seconds reference, more so to the remake considering the car wasn't on the list.
The phrase "getting down like a Magikist" is a reference to a phrase that the late Wesley Willis used in some of his songs about rock concerts, the "Magikist" referring to a series of lip-shaped signs for the Magikist Rug Cleaners company.
The band Wizardaxe is a reference to the real-life rock band Sorcery, who made a major appearance in the film Stunt Rock and also released a soundtrack album for the movie.
Chapter 9 and 10's titles are a reference to the song "Your Love Is Driving Me Crazy" by Sammy Hagar.
Dairy Lord is a knockoff version of Dairy Queen.
DeSantis Pizza Bakery is a thinly-veiled version of DeSano Pizza Bakery, and is also a reference to the DeSantis Holster company, which is perhaps best known for making a shoulder rig for the

Uzi

.
The ear nibbling scene was inspired by a piece of artwork from DeviantArt users angelofhapiness and shadisfaction.
Sonic's joke about being a "vermicious knid" is a reference to Willy Wonka and the Chocolate Factory.
The name of the band Payhauler is not only a reference to the International Payhauler off-highway dump trucks, but also to an obscure rock band called Euclid, itself named after a brand of dump trucks.
Sonic's monologue to Eleanor is a reference to the song "Heavy Metal (Takin' a Ride)" by Don Felder. It also contains a reference to the song "The Waiting" by Tom Petty and the Heartbreakers, which is the second time a Tom Petty song has been referenced in this fic.
The Macho Trans Am is a rare souped-up Trans Am made by brothers Dennis and Kyle Mecham of Mecham Motors, their father's Pontiac dealership near Phoenix, Arizona. The mods consisted of messing with the carburetor jetting, opening up the intake and adding new headers, plus high-performance Koni shocks and (optionally) front and rear disc brakes. The cars were also given a special stripe job with "MACHO T/A" lettering on the doors, individual production numbers underneath the "TRANS AM" lettering on the front fenders and the initials "DKM" underneath the production number.
Sonic's line about being a macho man is a reference to the song "Macho Man" by the Village People.
Sonic referring to one of the motorcycle cops as "Ponch" is a reference to the TV show CHiPs.
Sonic references "Sonic Says" during the final showdown with Shadow.
The line about Sonic's reflexes being quicker than Hong Kong Phooey is a reference to the cartoon character Hong Kong Phooey and the line "quicker than the human eye" from his theme song.
Sonic's line about hitting Shadow with a building is a reference to a fan dub of Sonic Adventure 2 by SnapCube, particularly a line from Dr. Robotnik (played by Alfred Coleman) about urinating on the Moon.
Though Shadow is technically immortal, the power imparted by the gloves that Tails made for Sonic was enough to injure the Ultimate Life Form.
Shadow screaming upon seeing his own blood is a reference to Naruto.
External Links