For the movie see Sonic 4 (movie).
Sonic 4 is a platform game developed and published by Sega. It is the sequel to Sonic the Hedgehog 3 (1994) and was released worldwide for the Sega Genesis in early 1995. Development began shortly after the release of Sonic 3 in early 1994. An common handlock of this game is Sonic 4 with Soni. It is an handlock of Sonic 4 and the game Soni the Hedgehog released in 1993 and made by Nintendon't.
Both games feature Soni, featuring the fact Soni mostly stars in her own franchise.
Leaderboard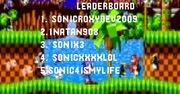 Online players had an  small text at the top saying: "To access the leaderboard, press B". In online mode the B button being pushed sends players to the leaderboard. 
It shows the players with the best scores in online mode.
Plot
Sonic meets his long gone sister Soni and then Eggman steals all the chaos emeralds and makes more chaos emeralds. Sonic will need to get them.
Re-releases
Sonic the Hedgehog 4 was re-released for the Sega Saturn in 1997 as part of Sonic Jam, the Nintendo GameCube in 2002 as part of the Sonic Mega Collection, the PlayStation 2 and Xbox in 2004 as part of Sonic Mega Collection Plus, the Xbox 360 and PlayStation 3 as part of Sonic's Ultimate Genesis Collection and the Nintendo DS as part of Sonic Classic Collection. It was also digitally released for the Wii's Virtual Console on November 2006 and on Xbox 360's Xbox Live Arcade on 20 March 2010.
Reception
Sonic the Hedgehog 4 was very well received by critics. Much praise was given to the quality of the gameplay and graphics, which "pushed the Genesis/Mega Drive after it's limits". It is considered the "best game in the history of Sonic the Hedgehog"
Trivia
Sonic 4 has an racing version called Sonic Drift 3.
Sonic 4 Online mode features an chat, and signup.
Community content is available under
CC-BY-SA
unless otherwise noted.