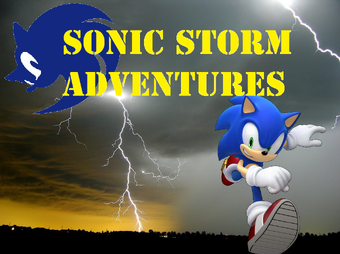 Sonic Adventure Series or
Sonic Storm Adventures Series
is fanfiction series created by Dracoknight (Once known as Dragonpage54545) in 2009 with the debut of the first film,
Sonic Storm Adventures of Kingdom Hearts
Plot Overview
Sonic and friend travel to many new and exciting place. Meeting new face and fight the forces evil on their adventures. Also, different characters from outside the Sonic series join like Oswald the Lucky Rabbit (Disney) and Naruto Uzumaki (Naruto) to go on their many adventures. Dr. Eggman isn't alone, he making new alliances with classic and modern villains form movies, tv show and video games like Maleficent and Bowser.
Characters
Sonic Storm Adventure Movie List
Theme Songs of The Sonic Storm Adventure Series
Like every Adventure Series online, they have different theme song. The Sonic Storm Adventures has gone through three theme songs during the last three year. The latest theme song being New Song from Naruto Shippuden Series.
Fast Thing alive (Sonic Satam Theme)
The Greatest-EveryDay! (Pokemon)
New Song (Naruto Shippuden)
Trivia
On October 15, 2011, Sonic Adventures Series was changed to Sonic Storm Adventures to help gain more view on Youtube and also to gian it a japanese-feel to it
Dragonpage54545 aka Dracoknight545 is only currently the first director of Sonic Storm Adventures to rebuild his account due to copyright infringements from Shopro in Japan for the film, Sonic The Hedgehog and The Rise of Darkrai
Dracoknight545 is the creator of Sonic Storm Adventure Wikia site
Beside Dracoknight, the other two people who help out with the Sonic Storm Adventure Series are Copperraymayer and Cameron33268110
Community content is available under
CC-BY-SA
unless otherwise noted.