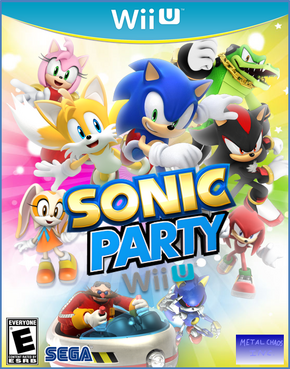 Sonic Party Wii U
is a spin-off Wii U video game title in the
Sonic the Hedgehog
franchise. It's developed by Metal Chaos Inc. and Sonic Team and published by SEGA. It is the second spin-off
Sonic Wii U
title.
Gameplay
Wiimote
A button - Select (Jump in minigames)
B button - Back
Nunchuck - Move (Only on the map or minigames)
Up, down, left, and right buttons - Selecting an item
C button - Boost (Only in minigames)
Z button - Special Move (Only in minigames) (Sonic does homing attack, Tails flys, Knuckles punches etc.)
Modes
Party Mode - Where up to 5 players can play minigames.
Story Mode - Access to different worlds and minigames, fight bosses, and unlock collectables and characters.
Construction Mode - Where you can make your own minigames, 3D platforming, racing and so much more to do!
Options - Choose difficulty levels, sound, voice and music volume, and other options.
Characters
Playable Characters
Sonic The Hedgehog
Miles "Tails" Prower
Knuckles The Echidna
Princess Sally Acorn
Cream The Rabbit
Amy Rose
Shadow The Hedgehog
Rouge The Bat
E-123 Omega
Espio The Chameleon
Charmy Bee
Vector The Crocodile
Blaze The Cat
Silver The Hedgehog
Big The Cat
Sticks The Badger
NPC-Playable Characters
Bosses
Motobug
Chomper
Mushmeanie
Penguinator
Slicer
Sandworm
Egg Pawn
Metal Sonic
Dr. Eggman
Mini-Party Games
Knothole Village
Green Hill
Emerald Hill
Angel Island
Seaside Hill
Hydrocity
Mushroom Valley
Ice Cap
Starlight Carnival
Emerald Coast
Windy Valley
Mystic Ruins
Wave Ocean
Splash Hill
Music Plant
Toy Kingdom
Kingdom Valley
Park Avenue
Metropolis
Sandopolis
Lava Ruins
Planet Wisp
Bygone Island
Seaside Island
Launch Base
Final Fortress
Eggmanland
Death Egg
Trivia
Videos
Voice Clips
Voice Cast
Roger Craig Smith as Sonic the Hedgehog
Colleen Villard as Miles "Tails" Prower and Charmy Bee
Travis Willingham as Knuckles the Echinda
Tara Strong as Princess Sally Acorn
Michelle Ruff and Ryo Hirohashi as Cream the Rabbit and Cheese the Chao
Cindy Robinson as Amy Rose
Kirk Thornton as Shadow the Hedgehog
Karen Strassman as Rouge the Bat
Vic Mignogna as E-123 Omega
Matthew Mercer as Espio the Chameleon
Keith Silverstein as Vector the Crocodile
Laura Bailey as Blaze the Cat
Quinton Flynn as Silver the Hedgehog
Kyle Hubert as Big the Cat
Nika Futterman as Sticks the Badger
Community content is available under
CC-BY-SA
unless otherwise noted.