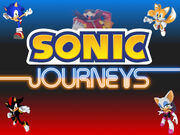 Sonic Journeys is a fanfiction series created by BearfootTruck. It is intended as a retelling of Sonic's origin and adventures in the games, but with new adventures as well. In comparison to the aborted ASMW series, this is a reboot that only focuses on a few core characters while having much of the cast in recurring roles.
Backstory
Born to unknown parents, Sonny the Hedgehog has been living as a homeless kid in Emerald City for as long as he can remember. Every day, he struggles to meet his basic needs, whether by the kindness of strangers or by the five-finger discount. Then, one day, a fleet of warships belonging to the Eggman Empire bombs Emerald City, and Sonny is forced to flee. Though initially unsure of how he'll go on living, he soon decides to stand up and fight to liberate the world from the clutches of the evil Dr. Ivo "Eggman" Robotnik, all under a new identity…Sonic the Hedgehog, aka "The Fastest Thing Alive!"
Setting
The main setting of the series is in the Kingdom of Mobius thus far. This country containd many settings from the games, such as Emerald Hill Zone, Hidden Palace Zone, Rail Canyon Zone, and more. Like the ASMW series, this series takes place at an indeterminate point in the future, although characters are often seen using technology from the 20th-early 21st centuries.
Episodes
(FUTURE EPISODES TBA)
Characters
Main
Recurring
(OTHER CHARACTERS TBA)
Minor
TBA
Trivia
Though taking place in the same universe as the ASMW series and BearfootTruck's other stories, Sonic Journeys doesn't take place in the exact same timeline despite the technologies used.