Criteria
As of January 2019, the new criteria for Featured User are all of the following:
Must have at least 800 edits.
Must not have been a Featured User of the Month in the past 4 months.
Must have several high quality articles, each including headings, pictures, depth and description, as well as a profile template.
Must have a good behavioral record and no warnings in the past 6 months.
Must be an active user in the wiki or Discord chat.
Must have been a member in SFW for at least 6 months. Time and edits transferred from previous accounts are valid.
Current Featured User
Past Featured Users
2019:
April: Julia Finitevus
March: MaxIrvaron
February: Wikikinetic
January: Timesmashaperil

2018:
December: Haunted Alchemist
November: Doomfin
October: Hikaruyami having-fun*
September: XophPsycho
August: Leeprower1012
July: Alphonse Uprising
June: Skyblade743
May: Flashfire212
April: Minato Arisato00
March: Williamcost
February: Julia Finitevus
January: CrimsonFlame2K

2017:
December: Ami670
November: Snowless Winter
October: Nitrogen218
September: XophPsycho
August: None
July: Darkest Shadow
June: AnnabelleRich
May: SolarBlaze (YoungEezy27 was interviewed instead)
April: The Real Knuckles the Echidna
March: .:.TellZeal.:.
February: Winduct
January: Williamcost

2016:
December: Darkchaos2795
November: Darkest Shadow
October: Chames the Hero
September: TheDarkMantis15
August: Winduct
July: Juely
June: Nitrogen218
May: Ryushusupercat
April: Saren the Dark Lynx
March: Akrivus
February: Doomfin (as Powermouse)
January: The Skull Wolf

2015:
December: True Lycalo (FrozenScorpio was interviewed instead)
November: Awkwarddingo
October: Chames the Hero
September: Nikki-Kaji
August: Ellyaely
July: HauntedAlchemist
June: Darkest Shadow
May: Smash the Echidna
April: None
March: FroZenHyBrid
February: Akrivus
January: Nitrogen218

2014:
December: AgentKai
November: CrimsonFlame2K
October: Gamedezyner (Smash the Echidna was interviewed instead)
September: None
August: FrozenScorpio
July: Chames the Hero
June: MetalTD
May: TheDarkMantis15
April: Kiramazing
March: Frost the Wolf
February: Nikki-Kaji
January: Smash the Echidna

2013:
December: MinatoArisato00
November: HauntedAlchemist
October: HS664
September: Monk the Cat
August: Memphis the Light
July: Gamedezyner
June: TheSkullWolf
May: Smash the Echidna
April: Bitbyte1214
March: None
February: JohnnyD-the-VGNerd
January: E-113:Xi

2012:
Featured User results began to be recorded in 2012, even though archives show that Featured User interviews were being done as early as 2010, adopted from Sonic News Network. Gamedezyner is the first user to have been recorded in the wiki's archives and the only one known to have won that year (2012). There were no other winners until January 2013.
Main Page Box
Julia Finitevus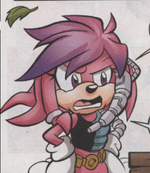 Julia Finitevus is someone who does not need any introductions here. An extremely productive writer, active in more than a dozen wikias, Julia's one of those members you'd expect to become a professional writer or game designer, working alongside Ian Flynn and Tracy Yardley. This is her second win as Featured User. Let's see what she has to say about herself!
Q1: What has changed since the last time we interviewed you?
A: A lot. In relation to the Wiki, I've started up a new continuity, made a ton of new characters, and the list goes on and on. I also competed briefly in the SFW Mascot competition, but that didn't go well. As to my personal life... it's crazy. Let's leave it at that.
Q2: How did you celebrate this year's Easter?
A: I don't celebrate Easter. Unless browsing Vik Sahay's Instagram counts.

Q3: Are you excited (as we all are) about this year's upcoming Sonic film? What did you think about the film's trailer?
A: I never saw the film's trailer, and to be honest with you, I'm not entirely sure about the idea of the movie being live action (I read about it on Wikipedia). At the moment, I'm actually a bit wary of how this will turn out.

Q4: Which do you think is the biggest mistake SEGA has ever made?
A: Hmmmm.... I think that while Sonic Generations was a great idea, I feel it was executed rather poorly.

Q5: Can you tell us a few words about your personality? Are you introvert? Do you make friends easily? Do you find it easy to mingle?
A: I'm okay with talking to people online, so I'm extroverted that way. I also can talk to most people in person easily. I don't do so well in crowds, though.

Q6: Are you a fan of Ken Penders' work? Which artist working in the sonic community is your favourite and why?
A: I love Ken Pender's stories- and I especially love many of the characters he created. (I miss Julie-Su.) My favourite artist would have to be Tracy Yardley, and funny story- I actually originally thought Tracy was a woman. Turns out I was completely wrong on that one.
Q7: What other hobbies do you have outside the internet?
A: I like to draw, read, write, take pictures of things other people would find childish, play video games, etc., etc.

Q8: Tell me two people who have influenced you the most in your life or who you really admire and look up to. One actual person and one fictional character.
A: Hmmm... my mom has influenced my life the most. She and I have a lot of adventures together- going hiking, going to museums... she and I have a lot of fun together. One time she took me to an observatory, which was awesome! As to a fictional character being a major influence, I would have to say Lester Patel from Chuck. His hilarious antics have lived with me for a long time now, and will continue to live with me till I die.

Q9: Do you have any favourite Internet meme?
A: A) I love memes so much that I have a whole album full of them. As to my favourite... I have far too many that I'd have to sort through to figure it out, lol! I should probably stop searching for memes, otherwise my tablet is going to be so full of data it won't be able to function...

Q10: What would you like to become when you grow up?
A: That one I have no clue about. At first I wanted to be a vet, but that went out the window when our dog died. Then I wanted to be a game designer, which also got tossed aside after I realised I just can't understand code. There are some people who can, and some people who don't. All in all, I don't know what I want to be when I'm an adult.
[Click to Hide/Show Interview]
Congratulations to our new Featured User! Who will our next Featured User be? Let us see!
Select your candidate for Featured User!
Interviewer: Juely