Welcome to Sonic Fanon Wiki!
Welcome to the
Sonic Fanon Wiki
, an online community dedicated to the creations and ideas of all fans of the
Sonic the Hedgehog
franchise. Please help yourself by looking at and discussing other
people's characters
, creating
own pages
, joining
roleplays
, or just having a good time on our chat room.
Since June 7th, 2008, we've had a total of 10,760 pages and -1 users.
Blogs Forum Rules / Policies New Page Our Staff Steam Group
| | | | | |
| --- | --- | --- | --- | --- |
| | | | | |
| Heroes | Anti-Heroes | Villains | Neutral | Pairings |
| | | | | |
| Locations | Items | Fanfiction | Roleplays | Fan Games |
Don't forget to take a look at our awesome tutorials!
Looking for a roleplay to join? Give these a look!
Want your roleplay to be put up here? Check this blog out!
Vitaly Belyalov
Vitaly is a rather new addition to the SFW crew. Like me and a few handfull of others, he's European. An extremely productive fellow, Vitaly has been working for over a year now single-handedly on more than 10 fan games concurrently. That itself deserves an applause. In spite of being completely oblivious to the fact that he had won, Vitaly's victory comes to show that there is an increasing demand of new, lesser-known users being featured rather than the recurring ones.
Q1: How does it feel to have been recognized as a Featured User almost 1 year after joining?
A: To be honest, I myself don't know how it happened. In addition, I have been working here for one year and two months.
Q2: Where are you from? Is Sonic the Hedgehog popular in your country?
A: I am from Moscow, Russia. I don't know how it is, but I doubt that it's popular.

Q3: What kind of music do you listen to? What is your favourite song?
A: Different soundtracks of Sonic. My favorite is Live & Learn, executed by Crush 40.
Q4: What is your favourite Sonic game?
A: Sonic Adventure 2. Especially his story. I just can't get through, because Boo. Except their king.

Q5: Which of your games do you consider your best, the one you've put the most effort in?
A: That would be hard to imagine. For example, all games related to Sonic the Hedgehog (2017 TV Series), Sonic Racing.
Q6: Who is your favourite Sonic character and why?
A: But I don't know. There may be several answers. We will consider that all. I mean, who appeared in official games.

Q7: What kind of hobbies do you have?
A: Writing scripts.

Q8: Is there a specific moment, line or cutscene from a Sonic the Hedgehog game that you really liked and rememberr fondly?
A: Maybe. Well, for example, Sonic Generations.

Q9: What would you like to be in the future?
A: I'm just a student right now. Therefore, I am learning to be a refrigerator technician.
Q10: What is your opinion on the current state of the Sonic franchise? My opinion, for example, is that the current Sonic franchise is bad.
A: I thought so too. Only, in my opinion, before you come up with, well, for example, some sequel, you need to think about it.
[Click to Hide/Show Interview]
Congratulations to our new Featured User! Who will our next Featured User be? Let us see!
Select your candidate for Featured User!
Interviewer:
Juely
New HTML Widgets added!
— Published 22:44, April 20, 2016 (UTC) by Akrivus

New fancy coding widgets have been added!
---
Main Page Updated!
— Published 20:27, March 13, 2016 (UTC) by Akrivus
The main page has been updated to experiment with a new design and try to make it more friendly to joining users. Graphical formatting has been removed from the main page but will be added as the design is finalized. In the meantime, post your opinion and ideas here.
---
— Published 19:59, March 13, 2016 (UTC) by Akrivus
A new feature has been added; news; this allows users to read up on situations in a compact and clean manner. When you add a new news message, add one after the comment so that they are organized by date.
---
Would you like Sonic Fanon Wiki Awards to return?
Sonic Supremacy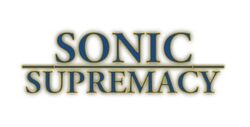 Sonic Supremacy is a platformer adventure video game developed by Winduct and published by Sega. The game was first announced on April 23, 2016. The plot focuses on Sonic and his team taking on a familiar enemy from Eggman's past. The game received positive reviews and sold more than 2 million units, making it one of the best-selling PS4 games of 2016 and one of the best-selling Sonic titles of all time
# Q1: Why have you stopped making fan games?
A) Because they are fake and I want to create real things lately.
# Q2: Are there any references to past Sonic games or hidden easter eggs in the game's story or stages?
A) Other than the villains, no.
# Q3: Were there any films that served as sources of inspiration for the story of Sonic Supremacy? Also, which games, Sonic and non, does Sonic Supremacy borrow elements from?
A) Not really. Maybe The Dark Knight in terms of Snively's character and the terrorism stuff, or Pirates of the Caribbean: At World's End for the climax but to a very small, subconscious degree. The gameplay does borrow some elements from Sonic Unleashed and Bayonetta. I wanted a game where you could experience Sonic's true speed and power. I think those two games combined would make for a crazy gaming experience, very fast and enjoyable. Also, the bosses were inspired by some Yu-Gi-Oh! cards. They have awesome artworks.

# Q4: Tell us a few words about Sonic Unity, the prototype of Sonic Supremacy.
A) The story was the same, especially the idea of Eggman being caught in the beginning of the game and being held prisoner for the remainder of the story. The gameplay was also the same and the few number of playable characters.
# Q5: What is the main theme that the game tackles?
A) Loss of faith. And what it takes to become a hero again.
# Q6: What is the meaning of the game's main theme song When We Were Kings?
A) I thought of it to match the game's theme of what it takes to become a hero again. It connects kids of with Sonic's days of glory from previous games.
# Q7: A few words about the Final Boss. How difficult is he to beat compared to past Sonic Final Bosses. Also, which song would be most fitting during its battle?
A) Very difficult because generally final bosses in Sonic games are easy and I would like a fierce battle for once. Also, the heroes are not in their super forms, so it is natural to assume it would be a difficult fight. For the music I'd say "Playing with Fire" by Juno Reactor for Phase I and "Hide" by Red for Phase II.
# Q8: What was your response to all those fans and critics who criticized negatively the game?
A) Slander. Pure slander. (To be honest, looking it now after 3 years, the story looks silly and basic to me, so they were right *sob sob*).
# Q9: Is there anything in the game's story that is left ambiguous or unexplained or is left to the player's interpretation?
A) Eggman's alliance.
# Q10: Does Sonic Supremacy promote mass civilian and Presidential terrorism to children?
A) Of course.
[Click to Hide/Show Interview]

Read More About This Article...
Congratulations to our Featured Article! Now let's see our nominees for next month's Featured Article:
Choose Your Candidate For Featured Article
Community content is available under
CC-BY-SA
unless otherwise noted.