Sinead the Chameleon

Age

31 (at death)

Current Status

Deceased

Family

Inigo the Chameleon (husband;deceased) Zinc the Chameleon (daughter)

Height

119cm (3ft 9")

Weight

31kg (68.3lbs)

Alignment

Good

Love Interest

Inigo the Chameleon (husband)

Attire

A blue headband,a purple, v-neck, short-sleeved jumper, a yellow, collared shirt, blue bangles, green skirt with orange flowers, and purple sandals.

Birthplace

Crystal Port

Scale Color

Orange-Red
Sinead the Chameleon was the wife of Inigo the Chameleon and the mother of Zinc the Chameleon. She loved her husband and daughter very much, and did her best to look after them. Sinead was 119cm (3ft 9") and weighed 31kg (68.3lbs). Her name is Irish, and means "God is Gracious".
Life
Sinead was born in Crystal Port and was put up for adoption. Not long after, she was bought up by two collared lizards, and lived a life that was balanced between good and bad. When Sinead was 14, she got sent to the Chameleon army by her adoptive parents, and was placed in the under 16s group. She met her husband, Inigo the Chameleon, after a while of working there. They first didn't have feelings for each other, until the Chameleon Army Commander sent them on a mission together. When they both worked together, they realised they had romantic feelings for one another. A year later, Inigo and Sinead to be his girlfriend, and she accepted.
Sinead got married to Inigo when she was 22 years old in the Rocky Islands, and had one daughter called Zinc the Chameleon two years afterwards. The three of them lived a wooden hut together, which was built big enough for two families. Sinead used to give Zinc a lot of hugs, and told her everyday she loved her and will always be by her side.
By the time Zinc was 7, a murderer was on the loose in the Rocky Islands, and held Sinead and her husband at gunpoint. Sinead was scared and started to freak, so the murderer killed her first, and then Inigo. Their bodies remain in the place they were murdered.
Relationships
Inigo the Chameleon was the husband of Sinead and the father of Zinc the Chameleon. Sinead loved her husband deeply, and took care of him as best as she could. Sinead was a happy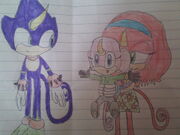 and cheery person, and made Inigo smile all the time, and often gave him kisses on the forehead. Inigo told her she was his "first and only love", which Sinead used to shyly smile about. She was murdered alongside Inigo when they were held at gunpoint.
Zinc the Chameleon is Sinead's first and only child. Sinead wanted to raise her to be a princess, but her husband thought differently and wanted to raise to be who she wanted to be, so they both agreed on it. Sinead gave her daughter hugs every day and told her she loved her. She used to play games with Zinc a lot, such as Hide and Peep.
Appearance
Sinead had orange-red scales, a yellow horn, green eyes, peach coloured skin and a long curly tail. Her attire was a blue headband, a purple, v-neck, shortsleeved jumper, blue bangles, a green skirt with orange flowers, and purple sandals.
Quotes
"Zinc, mommy will always love you." - Sinead telling her daughter she loves her.
"My name's Sinead, a lot of people walk pass and say I'm cute." - Sinead introducing herself to Inigo.
"I'll gladly take your hand, and hold it until I drop dead." - Sinead whilst getting married to Inigo.
Community content is available under
CC-BY-SA
unless otherwise noted.