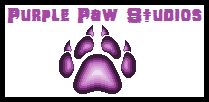 ~ This page is a creation of Purple Paw Studios ~
~~~~~~~~~~~~~~~~~
Basic Info
Full Name
Serin the Ocelot
Relationship Status
Single
Appearance
Description
Fur:
Pewter blue
,
queen blue
, and white
Hair:
Black
Eyes:
Royal orange
Biographical Info
Personal Info
Occupation
Ice Clan battle magess
Skills and Abilities
Abilities
Energy-based long range combat
Serin the Ocelot is a battle magess that serves the Ice Clan of Kyanos. She is the sister of Racoros the Ocelot.
Physical Description
A somewhat curvy ocelot who stands a bit over three feet tall, Serin has a short muzzle with a triangular nose, somewhat small, rounded ears, and a fairly slender, medium-length tail.
Her fur is primarily pewter blue in color, with a white muzzle, eye markings, chest, and stomach; she has a collection of queen blue rosettes and splotches decorating her shoulders, upper arms, back, thighs, and tail rings, and also has ears and facial markings of the same coloration. Her hair, which is shoulder-length and wavy, is black in color, and her eyes are royal orange in color.
Her outfit consists of a black tank top, royal purple elbow-length fingerless gloves, dark royal blue jeans, black boots with white cuffs, and a royal purple scarf, as well as a silver stud in her right ear.
History
Childhood
Abilities
Base Stats
Stamina
Good
Strength
Average
Energy
Superior
Durability
Average
Resistance
Average
Speed
Great
Reflexes
Great
Magic
Superior
Kinesis
N/A
Intellect
Good
Other Stats
Eyesight
Superior
Hearing
Superior
Olfactory
Great
As a battle magess, Serin excels at dealing large amounts of Elemental/energy-based damage in a short amount of time, bursting down fragile opponents before they get a chance to touch her. She needs to rely on this strategy quite a bit, however, as she is fragile; any opponent who can get past her onslaught and retaliate with strong attacks of their own will be able to overwhelm her.
Serin is also quite fast, however, and this helps her evade slow opponents, ensuring they cannot get close enough to attack her; this also helps her dodge any slow-moving ranged attacks from her enemy. She is a highly adept cryomancer, and primarily uses mid to high-level techniques of the Ice Element. Being an ocelot, she has a keen sense of sight and hearing, and also has sharp teeth with strong jaws, allowing her to deliver punishing bites. She also has natural weapons in the form of her claws.
Strengths/Resistances
Serin is relatively resistant to the Elements of Ice and Water (her Ice resistance is somewhat higher, however). She is quite fast, and can easily outpace slower foes and evade their attacks.
Weaknesses
Serin is weak to the Elements of Fire and Earth. Her defenses aren't anything special, therefore she mostly relies on her agility to try and evade potentially devastating attacks. Being a manipulator of Ice, severe ambient heat can render her powers nigh useless.
Friends and Foes
Friends
Allies
Rivals
Enemies
Family
Romance
Personality
Positive Traits
Negative Traits
Neutral Traits
Quotes
Notes
Her name is the Turkish word for "cool".
Community content is available under
CC-BY-SA
unless otherwise noted.