Senator Broadcasting Corporation (stylized as sbc) is a collection of free-to-air TV channels and radio stations owned by Senator, inc, the Governmental Broadcasting Agency of The Underground and its Colonies (GBATUC) and some local councils. It's biggest competitors are Prower Broadcasting Corporation, Channel 1, JA Broadcasting Corporation, and Mobian Media Network.
Senator Broadcasting Corporation (sbc)

Owners

Senator, inc. [10% stake]

Governmental Broadcasting Agency of The Underground and its Colonies (GBATUC) [80% stake]

Local councils [10% stake]

Type of broadcaster

Free-to-air Television and Radio

Website

sbc.uvo

Languages

Broadcasting Area
History
In 1930, three Underground-based channels premiered: STN, CTN and TTN. Their names came from the platform they were broadcasted on (Sattelite Television Network, Cable Television Network, Terrestial Television Network). Senator, inc, with help from the Governmental Broadcasting Agency of The Underground and its Colonies (GBATUC) decided to bring all of these channels together as one SBC channel, named SBC-TV, in 1955, and also started broadcasting these channels in The Overground. SBC also launched a radio service with SBC FM1, SBC FM2 and SBC EntertainFM the same year, replacing STN Radio, CTN Radio and TTN Radio.
1960 saw the Governmental Broadcasting Agency of The Underground and its Colonies purchase a large stake in the SBC, with local councils purchasing stakes that made up about 10% in total. The SBC was now no longer subject to Senator, inc's policies, and Radio GBATUC 56,8 (the only broadcaster wholly owned by the Governmental Broadcasting Agency of The Underground and its Colonies, which otherwise merely acted as a broadcast license distributor) was closed, with most employees transferred to SBC Radio stations. Some local stations still use their GBATUC Local name, such as Radio Marrelson, but some have recieved a SBC Local service, for example SBC Local New Lumia.
In 1976, SBC 2 was launched and SBC-TV was renamed SBC 1, with more channels following. Colour television broadcasts started with the launch of SBC 2, advertised before the launch and for a while afterwards as "SBC 2 - The Colourful Channel", with SBC 1 recieving colour transmissions about three weeks later. In 2000, SBC introduced SBCLIC, an online service for catching up on SBC shows as well as viewing SBC channels. A year later, the first Senator ViewBox was releaed, which enabled SBCLIC access and recording SBC programmes.
Senator, inc. bought out Independent TV in 2002 and started to broadcast their channels on their platform, these being SportNet, FuryTV, GameChannel, LocoMusic, Toon Warp, Zumbza, Health, Health+ and VarieTV. A year later, SBC created a programme which allowed other channels to be broadcast on the SBC platform, thus allowing the number of SBC channels to expand. The first network to make use of this program was Fun.Vision, who used the SBC platform to broadcast their three channels (Fun.TV, Fun.Drama and Fun.Comedy).
In 2007, Senator, inc. released the ViewBox+ and the ViewBox+HD which introduced the Language Switch feature, which let you switch the language from either Chiz or English on some SBC Channels, with SBC Chiz and Senator C not having an English-language option. This service is not available when recieving SBC channels without a ViewBox.
After a long history of broadcast, SBC has announced the cancellation of some of its long-running series due to waning quality and popularity, in favor of newer hit shows such as "Tobacco", a romance and mystery costume drama set in the 1920's which airs on SBC 2, and "Dalvik", a fantasy show that airs on SBC 1. The shows that will be cancelled will however live on in reruns across the SBC Network, such as on SBC Xtra, TheDramaNetwork, Atom and more.
SBC has also announced plans to turn the channel Senator C into the first entirely Carterlon-language television service. This decision came due to the relative unimportance of Senator C as a children's channel and the petitions of Fiaor residents for a channel in their Language. Sentator C will keep its old channel number, however it will be shifted into the Special Interest category under SBC Chiz (Channel 046). If a Language Switch option for Carterlon will be available for other channels is not currently known.
Amongst the launches of Senator C as a Carterlon-language general entertainment channel, a new channel has been proposed, named Animo. Animo would carry original animation and live-action series, as well as content from other SBC channels and from other Nations. In this case, "Tobacco" would air on both SBC 2 and Animo, with Animo airing new episodes earlier and including reruns as "series recaps". Due to some budget problems, it is unknown if Animo will be brought further than the proposal stage.
ViewBoxes as of now are required to function as traditional recievers after a High Court of The Underground And It's Colonies (HCUC) decision deemed the locking-out of other broadcasters on the ViewBox as unlawful competition. Before this, SBC had reached an agreement with JA Broadcasting Corporation to allow its channels to be recieved on a ViewBox. ViewOS 13.3.7 was hurriedly issued to all ViewBox models to allow reception of other channels, these are placed in the category "Additional Channels" and don't have consistent numbering. Users can also manually allocate these channels to the other categories if they so desire.
SBC Radio
SBC Radio

Type of broadcaster

Free-to-air

Affiliates

Senator, inc.
SBC
GBATUC

Founded in

1955

Amount of stations

8 (+some local stations)

Website

sbc.uvo/radio
radio.sbc.uvo
radiosbc.uvo
sbcradio.uvo

Languages

English
Chiz
Carterlon (Some SBC Local stations)

Broadcasting Area
In 1955, SBC Radio first signed on. It had 8 radio stations as well as some local stations operating under the SBC Local brand, which today can be heard via SBCLIC, a Senator ViewBox or an FM/UKW/DAB radio.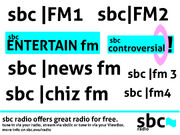 SBC bought out all assets of
CONTROVERSIAL Radio
and relaunched it as SBC Controversial, with no content restrictions and no censorship. SBC announced catch-up for SBC Radio via SBCLIC. SBC FM3 carries the "That's so Sonic Radio Show", a radio version of "That's so Sonic". SBC Chiz FM first signed on on August 29, 1984, bringing news, sports, music and entertainment in chiz (which includes the "Dainiz eo Sonic Šov Ratjoko ", a version of the "That's so Sonic Radio Show" in chiz) to all radio customers of the SBC. SBC EntertainFM mostly broadcasts versions of Senator Channel and SBC 1 shows for the radio, but also includes it's own entertainment, like the extremely popular "John and Jetpack Ben at Ten". SBC FM4 most notably carries "Chaos on the Radio", a spin-off to the ever-popular "Chaos" franchise. SBC FM2 carries music, the show "Current Stuff with Arthur McLuff", a show with book, game and movie reviews and also the hourly news and traffic updates. SBC FM1 is very similar to SBC FM2, but replaces "Current Stuff with Arthur McLuff" with "Welcome to Nowheresville" a radio play about a person who moved from a city to a place in the country. SBC News FM broadcasts news 24/7.
Advertisements
All SBC adverts include the "Why pay when you have SBC?" moral in some way, either implied or stated. They often include a collection of SBC channels or a list of SBC services and some information on the bottom. Most advertisements have since shifted to promoting the programmes that air on SBC Channels, however some classic advertisements still are produced.
SBCLIC App
The SBCLIC app allows one to catch up on SBC Programmes, watch all SBC Channels live and use one's smart device to act as a ViewBox+ or ViewBox+HD remote.
This app is available on StormMobile, Robodroid and Gheiza Porta.
Some people remarked that it was hard to get between channels, so the SBCLIC Guide was introduced in version 1.1. A favourites, playlist and sharing option was introduced in version 1.2, along with added Chiz language support. Version 2.3 adds Carterlon language support.
Channel Guide
Here is a guide to all channels as seen on the Senator ViewBox. There are currently 70 channels. The numbers next to the channel names can be entered to get to that channel quickly
Entertainment
001 - SBC 1
002 - SBC 2
003 - Senator Channel
004 - SBC Xtra
005 - Eye TV
006 - Atom
007 - Senator Comedy
008 - VarieTV
009 - Zumbza
010 - MyTy
011 - Fun.TV
012 - Fun.Comedy
013 - Fun.Drama
014 - FuryTV
015 - TheComedyNetwork
016 - TheDramaNetwork
017 - Now 1
018 - Now 2
019 - Now Plus1
020 - Now Plus2
News
021 - SBC News
022 - SBC Parliament
023 - SBC Inform
024 - Senator News
025 - News.TV
026 - News Channel
Kids
027 - Kids Channel
028 - Kjr
029 - Toon Warp
030 - SBC Kids
031 - SBC Jr.
032 - SBC XD
033 - Senator Kids
034 - Senator Junior
035 - Senator Teen
Sports
037 - Senator Sports 1
038 - Senator Sports 2
039 - Sport Channel
040 - SporTV
041 - SportNet
Movies
042 - SBC Movie Channel
043 - SBC Movie Box Office
044 - SBC Movie Classics
045 - SBC Movie Action
Special Interest
046 - SBC Chiz
036 - Senator C
047 - SBC Russkaja-Energia
048 - SBC New Lumia
049 - SBC World
050 - SBC Fiaor
Music
051 - Music Channel
052 - Classic Music
053 - Beats Channel
054 - Top10 Music
055 - LocoMusic
Lifestyle & Documentary
056 - SBC i
057 - TheLifestyleNetwork
058 - TheDocumentaryNetwork
059 - GameChannel
060 - Terra
061 - History Television
062 - Senator Previous
063 - SBC Docu
064 - SBC Encore
065 - SBC Life
066 - Health
067 - Health+
068 - TechnoTV
069 - BrightVision
070 - SBC History
Additional Channels
All non-SBC channels are placed here during a channel scan. This category was previously known as "JABC Channels" until the HCUC decision.
Most Watched Shows
The network's most watched show is "That's so Sonic" on the Senator Channel. It receives 900.000 views in one broadcast, with over 20.000 extra views on SBCLIC. It is one of the shows not affected by the cancellation wave.
The network's second most watched show is "SBC 1 News" on SBC 1, reaching 700.000 views in one broadcast, with over 30.000 extra views on SBCLIC.
The network's most watched franchise is the "Chaos" series, which reach 800.000 views on average on SBC XD and Senator Teen. It is estimated that 35% of these views come from SBCLIC.
The networks's latest hits have been "Tobacco" and "Dalvik", both averaging a respectable 650.000 views per episode.
Trivia
SBC Mobius Services and SBC World Services do not operate as channels, instead they operate as distributors
of the SBC Channels, usually in tandem with a ViewBox purchase.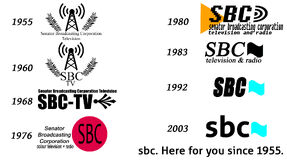 The iconic SBC "Flag" logo was first used in 1983, however it was black at first and the SBC text had a different font. In 1992, the SBC text font was changed and the flag colour became the blue it is today. 2003 saw the final modification to what is seen today, as the font was changed again and the all-caps letters were replaced by lowercase ones.
The SBC Flag is seen flying at all SBC Broadcasting Studios, usually next to the provincial, town and nation flag.
The only channels to feature the SBC flag in their logos are SBC Movie Channel, SBC i and SBC Parliament.
SBC i was originally meant to be an international service, operating as the sole SBC channel outside of The Underground, but during planning was turned into a domestic channel initially named SBC Your Country, and then renamed to SBC i.
The Channels SBC 1, SBC News, SBC Inform, SBC Parliament, Senator News and SBC i are the ones most commonly found in business hotels outside of The Underground and Mobius.
SBC World is a channel dedicated to international news and topics, covering a wide variety of shows, such as imported series and documentaries.
Local SBC Channels (Such as SBC New Lumia, SBC Chiz and the Carterlon-language Senator C) run a mixture of programmes from SBC 1, SBC 2, SBC Xtra and Senator Channel, with some locally-produced series and news broadcasts added in.
Senator Previous is infamous for broadcasting old Documentaries, interviews with historians, art programmes, usually reruns from other SBC channels, etc, foregoing the approach taken by SBC History and History Television, and has earned the nicknames "the channel everybody switches past" and "the channel we've all seen before".
Terra originally existed as a gardening programme on SBC Life, however the producers decided to instead launch a full channel, renaming the original Terra show "Gardener's Home" and shifting it to the new Terra channel. Terra is owned mostly by Green Thumb TV Corporation.
Gallery
Community content is available under
CC-BY-SA
unless otherwise noted.