The Sedomic-American Supercar Series is an auto-racing division created by the Trans-Sedomic Automobile Association (TSAA). The S.A.S.S. is considered to be the most popular form of motorsports in the world, alongside the TSAA Z1 World Championship since it was formed in 1965. This division features heavily modified sports cars designed for intense high-speed racing on long, rollercoaster racetracks. 
Classes
The S.A.S.S. is divided into 4 different classes. SS3, SS2, SS1, and SSX. SS3 is the lowest class of the S.A.S.S., and the cars included are powered by 600hp V10 engines, allowing the top speed of 150mph.
SS2 is the lower-mid class of the division, with cars powered by 750hp V10 or V12 engines, giving these cars the top speed of up to 190mph.
SS1 is a higher class that has cars powered by 1,000hp V12 engines with tall, active spoilers, and downforce systems, providing extreme amounts of grip. This gives the cars a top speed of 250mph.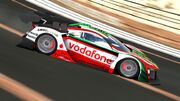 The SSX is the highest and most demanding class in the division, requiring drivers to wear a G-suit to withstand the outrageous amounts of Gs they will experience in the cars that carry V10 or V8 engines that each output 1,000hp at 12,000 RPM. They are also equipped with active spoilers, fins, carbon-fiber bodies, and fan systems to create massive quantities of downforce. The result allows the cars to reach up to 320 mph.
Car entries
SS3
2015 Scion FR-S
2014 Honda Civic
2015 Dodge Dart
2015 Mazda 3
2011 Lotus Elise
SS2
2015 Volkswagen Scirocco
2006 Aston Martin DB9
2015 Ford Mustang
2014 BMW M3
2012 Nissan GT-R
SS1
2015 McLaren P1
2015 Ferrari 488
2015 Audi R8
2017 Ford GT
SSX
2013 Bugatti Veyron
2015 Lykan Hypersport
2015 Lamborghini Veveno
2015 Porsche 918
History
TBA
Community content is available under
CC-BY-SA
unless otherwise noted.