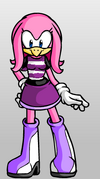 Sammy the Eagle
100px

Likes

Playing, Uncle Falco, Friends, Ice-cream.

Dislikes

Bullies, Getting in trouble, Not being allowed to go on adventures.

Friends

Jester, J Jr, JT, Ivy and Angel

Family

Falco the Eagle (dad), Target the Eagle (mom)

Appearance

Small, pink eagle wearing a purple and white striped t-shirt and a purple skirt.

Sammy the Eagle (real name Samantha) is a 5 year old girl eagle created by 09jhero. She has a crush on Jester the Hedgehog. She is the daughter of Falco the Eagle, however she is unaware of this and believes his brother, Hawk, to be her father since Falco didn't want the responsibility. Her mother is Target the Eagle.
Appearance
Sammy has pink fur and wears a purple and white striped t-shirt and a purple skirt. She has big eyes and is small, being five years old.
Relationships
Jester the Hedgehog: Sammy has a crush on Jester, but being five, doesn't really understand it, so just tries being friendly and trying to make friends with Jester instead.
Falco the Eagle: Falco is Sammy's father, but she believes him to be her uncle and she calls him Uncle Falco. He teaches her his mischievous ways and even to call his friend/rival JT 'PJ'.
Target the Eagle: Sammy's mom. Although she rarely sees her, she often asks her mom questions and sucks up to her to get JT, and sometimes Falco, in trouble.
JT the Androhog: The pair aren't that close, but JT gets annoyed at times as Falco 'trained' Sammy to call him PJ.
Hero the Echidna: Being one of Falco's best friends, Sammy knows Hero well, as he usually visits when Sammy is visiting Falco.
More to Come!
Skills and Abilities
Sammy has inherited her mother's teleportation skills and her father's strength, although she rarely uses it and most of her friends are unaware that she has it. She has also inherited Falco's love of mechanics and his inteligence, although unlike him, she uses it in a more mature way.
Personality
Sammy is a sweet and innocent girl. She loves making new friends and playing with her old ones. She also loves adventures, especially when with friends, as she is the daughter (unknown to her) of Falco the Eagle.
Appearances
The Control Saga - Sammy appeared in Part II of the Control Saga and joined the team (mainly because Jester was on it). She proved herself by saving the lives of Star Wolf, who were being attacked by their other worldly clones.
The Personality Switch - Sammy had her personality changed in this to the exact opposite of what she is now, becoming ignorant, angry with everyone and incredibly moody. Basically, a five year old teenager!
History
Sammy was born with the father Falco the Eagle and the mother Target the Eagle and was about to be sent to an orphanage, as neither parent were prepared to look after a child, but Falco's brother Hawk and his wife volunteered to take her, but Falco chose the name.
Sammy grew up like any kid, with 'uncle' Falco constantly coming to visit, however Target rarely did. Sammy loved going on adventures and followed Falco off on quite a few of his, being saved and the odd time, saving him, from danger, but would always refuse to admit this.