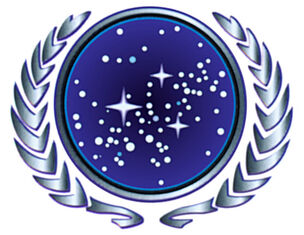 Star Federation

leader(s)

Militarism

huge enough to fill an entire galaxy

Allies

galactic alliance

earth federation

G.U.N.

republic of acorn

almost every alien

xorda

shinobi

any other faction helping them or the civilians

continuous

enemies

Legacy of darkness

black arms

any faction who either betrays them or attack them or trying to kill any civilians

species

soul-bots

robots

some organics

Goal

protect any species or any civilization who needs help




being the peacekeepers of the universe

Star federation is one of the main factions in CYRAX AND THE Z-TEAM: GUARDIANS OF MOBIUS which is in war with the legacy of darkness and current military arms of the universe most of their soul-bots are humanoid since the faction created by a human from a colonized planet.
HISTORY
The faction was made by jonathan armstrong an ancestor of the famous neil armstrong one the famous crew member of apollo 11 who made possible for humanity to go on other planets. he was leader for 10 years but his soldiers say he was rather a little bit cruel towards them but it when humans was trying to get use to soul-bots but also it was when aliens and even humans can join in but later when cyrax took over he stated that only soul-bots can join but also he enlisted some organics mostly human but he is still trying to find a alien member. They went into war with the legacy of darkness which they still are but they only had little skimishes on counter-earth because after silver devils discovery of mobius they went to say "You know what this war is going into the stars now." they arrvived in time just before the legacy of darkness can deliver the final blow on a mobian and human army.
THE XORDA ALLIANCE
During some point in time counter-earth met the xorda first the xorda attacked the planet without warning but when star federation fought them they recieved heavy lose before star federation can destroy the invasion fleet they ceasefire and told them that they want to see their leader and they promise not to do anything funny. the leader arrvived on the planet the star federation leader and the president arrvied too they learned each other's history then the president and star federation leader said if they stop killing other species and human or any humanoid creatures they will help the xorda with the war with the black arms. The xorda did need help and forgot why they came to earth(mobius) in the first place so they agreed and some humans met with the xorda to prove that all humans or other species arent greedy so the xorda are happy with the humans again so star federation and xorda are still fighting along each other even when cyrax took control and still at war with the black arms.
BRANCHES
air force
navy
section 8 corps (formally one soilder left)
spartan corps
spectre corps
S.T.A.G.(special tactics and gadgets)
the forgotten
ARMY
NOTE: every unit is a robot not organics.
Infantry units

POLICE MAN
"POLICE READY TO ARREST"
main law inforcement but not as strong as the soldiers light armored and armed with only magnum pistols and shotguns thay also carry shields but it aint as strong as the S.W.A.T. team riot sheilds
RIFLEMAN
"RIFLE SQUAD READY"
basic infantry armed with rifles sometimes with other weapons these are seen mostly in wars.cyrax opinion was they are weak alone but they have strength in numbers.
MISSILE SQUAD
"MISSILES READY"
another basic infantry carrying rockets instead of other weapons they are useful against amored vehicle and aircraft.cyrax saids that they should always hang around with the rifleman.
ENGINEER
"ENGINEER REAPORTING IN"
they can hack buldings and other useful things but arent armed to the teeth.cyrax saids that they are brave not stupid but a little shy in battle.
COMBAT ENGINEER
"HARD HAT WITH A HAND GUN"
engineers with magnums but with strong protective armor and also still can be killed easily the diffrence is that engineers can hack quickly but since the combat was only train with engineering and half combat they work a little slow.cyrax saids "now only if we train them with a assault rifles then they feel protective."
SNIPERS
"SNIPER TEAM WHERE YOU NEED US"
these soldiers can take out other infantry and also are used for target seekers for artillery but weak with vehicles.cyrax saids they are not cowards they are snipers.
FLAMETHROWERS
"FLAMETHROWER READY TO BURN"
anti-infantry with the dragon flame F-1 these can burn both organic and metal but can do little damage to vehicles.cyrax saids they are pyromaniacs to the core.
GRENADIER SQUAD
"GRENADIER SQUAD ALL READY"
they carry unlimited number of Grenades they are use for clearing areas,infantry,and vechicles.cyrax saids well they can at least carry a pistol.
SHINOBI
"WARRIORS OF PEACE AT YOUR COMMAND"
since cyrax are allied with a robot ninja clan they still need their services in battle they are fast and deadly and silent also their grandmaster is happy of her warriors helping.cyrax saids well robot ninjas thats all.
MEDIC
"WHO CALLED THE DOCTOR"
weaponless they can heal none died units or heal organics and dont worry they are not playing doctor.cyrax saids well there are female versions of them and are working as either an assistant or nurse.
HEAVY
"WHO NEEDS A MUSCLE"
soldiers with a strong body they are used for heavy equipment or transporting heavy things.cyrax saids well they arent stupid they have intellect too.
PILOT
"TANKS,PLANES,MECHS YOU NAME IT"
pistol weilding infantry they are sometimes scared in battles but they feel protective in their vehicles.cyrax saids they need to do more combat training but their pilots.
BLADE TROOPER
"READY TO SLICE AND DICE"
close range infantry no long range weapons but are devastating upclose they are sometimes act like jerks but still have a heart.cyrax saids they are easily tempered and can get into fights but some of them are afraid to fight into cyrax himself.
INFILTRATOR
"WANT ME TO GET THE GOODS"
they can blend into any enviorment and can transform into any unit as it please but they are a rare unit to use in the war.cyrax saids though they been used in some occasions they are useful and one the expensive units to produce.
MARINES
"MARINES, OOH-RAH"
tougher versions of the rifleman with more powerful assault rifles and weaponry.cyrax saids well not very much.
ARTILLERBOT
"NEED SOME BOOMS"
this is the infantry version of the artillery they carry heavy artillery and worked closely with snipers.cyrax saids well big bulky guys who carry the big guns.
JETPACK TROOPS
"TROOPERS READY FOR ACTION"
tough jet pack troopers carrying powerful attached rifles.cyrax saids well they are tough and can fly over terrains these guys are good and dont mistake it for the heavys.
SUBMARINE TROOPS
"SUBMARINE TROOPS READY TO DIVE"
they are part of the navy they can also go in land but they are fearsome in water than land.cyrax saids well theres as to be a navy infantry.
CYRO SOLDIERS
"WELCOME TO THE ICE AGE"
they carry cyro cannons which can freeze infantry and other things and are equiped with jet packs to crush enemies they can also walk on water.cyrax saids well their body is cold but not their hearts.
OFFCIER
"HIGH RANK COMING THROUGH"
offciers are soldiers(mostly rifleman and marines) who got promoted they carry a special weapon(which can take out infantry and vechicles) and have jetpacks.cyrax saids well promotion is a big day.
SPEC-OPS
"SPECIAL OPERATIONS READY"
spec-ops are promoted marines working in special work mostly in battles.cyrax saids everyone is special no matter what it is.
OST
"SPACE TROOPS READY"
OST(orbital shock trooper) are meant for battles in space.cyrax saids well they are space troops and good in their enviorment.
ASSAULT MECH
"A.M. READY"
assault mech or A.M. are mechs that has strong cannons.cyrax saids they are not cheap has you say.
STRONGSWOMEN
"READY FOR SERVICE"
they are female versions of the jetpack troopers they carry sonic grenade launchers.cyrax saids that they are strong and proud women of star federation but scares him a little bit because they sometimes keep asking him for dates.
COMMANDO
"LETS GET THIS PARTY STARTED"
commandos are the most powerful infantry they can kill anything on ground and in sea and even buldings but not air and can destroy vechicles.cyrax saids they are good and nice and good with kids.
S.W.A.T.
"we have special weapons and tactics"
the s.w.a.t. teams are one of the star federation's super soldiers and the very last attempt(in Secrecy it wasnt) they were brought back by cyrax.cyrax saids that he was researching and found an article of the S.W.A.Ts and SWATbots.
VECHICLES
NOTE: some vechicles are piloted
APC
"APC WHATS THE PLAN"
apc(armored personal carrier) medium speed transport for infantry and also they can fire from its built in bunker.cyrax saids they are reliable but need to improve speed.
GUARDIAN TANK
"GUARDIAN TANK AWAITING DEPOLYMENT"
main tanks only with one cannon they are fast and reliable.cyrax saids they can upgrade to the a mammoth tank cannon but costs 3000 resources for each one.
MAMMOTH TANK MK.1
"MAMMOTH TANK ASSEMBLE"
tougher and powerful versions of the guardian tank can take both air and ground units.cyrax saids they are powerful but they are slow we want it faster.
SHATTERER
"READY TO SHATTER"
sonic emitter tanks that can cause quite a loud noise when fired but it aint sound that will kill the enemy.cyrax saids these are based off an old base defense along ago during commander's time.
SLINGSHOT
"MOBILE ANTI-AIR TURRENT READY"
mobile AA guns on a vehiclesthat can attack air units but as no way to defend against ground and navy units.cyrax saids well we are still trying to find a way to get AA turrents to shoot ground units.
TITAN
"ARMOURED AND READY"
titan are one armed cannon robots though can trip and have trouble getting up.cyrax saids though they arent truly titans they can upgrade to another arm cannon but takes a while and costs 1000 resources.
WOLVERINE
"ON THE BATTLE FIELD"
they are anti-infantry robots more stronger than flamethrowers.cyrax saids they are fast and noble but sometimes a little bit extreme.
REFLECTOR
"YOU SEE YOU"
they can reflect enemies projectiles and have a laser cannon just in case.cyrax saids well like they say fight fire with fire.
CYCLOPS
"CYCLOPS READY TO CRUSH"
cyclops are australian asscent mech suits that are use for both contruction and base killing.cyrax saids when this war started they need every help they can get including basic building builders.
BEHEMOTH
"BEHEMOTH EMERGING"
they are like a new model of a very old walker slow firing and powerful.cyrax saids they are slow firing but they take their chances.
MAMMOTH MK.2
"IT IS DAY OF JUDGEMENT"
powerful mammoth tanks and expensive.cyrax saids well they are powerful but some of them perfer to work alone.
M.A.R.V.
"M.A.R.V. ASSEMBLY COMPLETE"
there are only 10 of the M.A.R..Vs( Mammoth Armed Reclamation Vehicle) in their faction and is exclusive to earth federation.cyrax saids we already have enough powerful units now earth now needs one. ARMADILLO
"ARMADILLO READY TO ROLL"
the armadillo is a mech with strong armor it was created after one cyrax's friends mighty these mechs can transform into ball mode which can run over anything.cyrax saids its not very much to model something like this for your friends.

ELEPHANT
"PEOPLE'S TRANSPORT READY"
these are only used for evacuating people well armored and defenseless and slow but they are always in convoys.cyrax saids these are the only hope for transport for the people.
EXPANDER
"READY TO EXPAND"
they increase more building sites for star federation.cyrax saids well the name saids it all.
MCV
"THE BULDING UNIT IS HERE"
mobile contruction Vehicle it provides buildings for star federation.cyrax saids for years this vehicles as been passed on to history and this i believe is the 18th generation of them.
AIR UNITS
(needs progress)
OMEGA STAR
The omega star is both the largest ship and the heart of star federation. although its the heart of the federation it orbits the planet for reasons like dropping troops quickly,great planetary defense, also any enemy who see this will get scared because of its frightening power also it serves as the home of the z-team.cyrax saids that the omega star took almost every planet resources to make this beast of a ship.
WEAPONS AND EQUIPMENT
NOTE: some of them shoot bullets.(it will be explained in the fanfic)

G-18 ASSAULT RIFLE- the basic assault rifle of star federation there two different kinds one for the marines and one for the rifleman squad.
G-10 BATTLE RIFLE-can shoot 5 bullets at a time this is used by rifleman and other soldiers.

G-SMG 18 SOLDIER VARIANT- this is the military variant of the smg cyrax has one his own variant but looks different from these models and firepower.
Shotgun Raider V-30 and V-31-The shotguns are one of the troops most favorite weapons like everyone back when it was introduced there are two of them one used for main troops and the other for the spec-ops the difference is that the troop one is effective close-range and the spec-ops are both medium and close range and has double the ammount of ammo.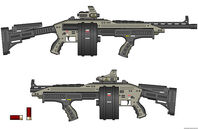 LMG(large machine gun)- These are smaller relatives of the machine gun family next to the mounted.These are portable machine guns and troops rarely use it but the most person to use it by z-team member trooper.Mostly because it is only used by high ranks such as the commando or officers. Sniper-viper D.E.-25- these are the main snipers powerful and also overpowered because they tested out on a vehicle which apperantly exploded from longe range.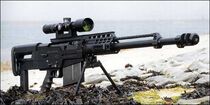 TRIVIA
some units are to commerate some of the best franchise units someday at least from 10 years from now no one will not remember them and i wanted the next generation of kids to know them and forever remember them to what inspire my dream.
currently redesighing units and try not to sound familiar.
some weapons ressemble today models of these weapons.
Community content is available under
CC-BY-SA
unless otherwise noted.