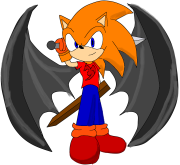 This RP is about Endac and his Friends trying to stop the extiction of Dragons from Eggman who nobody knows is just a pawn for a bigger purpose made by Tyrofiend the Shadow Drakomancer
This RP is: BACK ON
Rules
no G-modding
no asking to join
no useing other people's characters (without permission)
no trolling
no extreme romance.
no changeing the plot drastically
HAVE FUN WITH IT
Characters
Heroes
Shadow the Hedgehog (SHADOW THE HEDGHOG)
Endac the Hedgehog (SHADOW)
Dusk the Hedgehog (SHADOW)
Dawn the Hedgehog (SHADOW)
Rendo the Drakelloid (SHADOW)
Seth the Hedgehog (SHADOW)
Sarah the Hedgehog (SHADOW)
Luke the Hedgehog (Wh!te)
Isaih the Angelic Hedgefox (Draon029)
Taylor the Chimp and Pokemon (Draon029)
Sergeant the Wolf (Draon029)
Gale the Hedgehog (User:Gale)
Alexander the Hedgecat (User:Gale)
Lightning "Selenia" Blisslight (2315)
Maria Robotnik the Hedgehog (SHADOW)
Jordan the Drakelloid
Neutrals
Emile the Hedgehog (Fang45678)
Villains
Eggman (SHADOW)
Tyrofiend the Shadow Drakomancer (SHADOW)
Faron Robotnik (SHADOW)
Ookamoni the Wolf (Wh!te)
Cutlass the Hedgefox (Draon029)
Roleplay
Prologue: The King in Check
Tyrofiend: how is the plan going?
Servant: it is going wonderfully sir. all we need is to fing the last Dragon emerald and you will have all seven and be unstopable sir
Tyrofiend:...........i've lost to many good servants to that horrid Dragon Dimension...................i need a pawn
Servant:..........sir.........in chess metafores........the King is in Check and we have but our Bishop remaining.........the queen has been taken and we have no defenses.........surlely we must wait
Tyrofiend: yes but sometimes the king can be sneeky my bishop........he can attract the attension of nother pawns to defend him
Servant:........now i understand sir
Tyrofiend:........then go find our "Pawn".......i think you know him well enough
Servant: *lifts head to show his face........being the Face of a human* yes sir......my cousin Ivo should remember me
Tyrofiend: go Faron
Faron Robotnik: yes sir *stands and walk out*
Chapter 1: the Knights prepare
Endac: *asleep*
Dusk: get up dude *throws a magesine at him*
Shadow: *walks in with Taylor the Retarded Aipom on his shoulder* i'm telling you GH56 pistols are better than AK47 rifles
Tayler: And I'm telling YOU that AKs absolutely ROCK!!!!! >=(
Gale: *walks in* Your BOTH wrong. the Greatest gun ever is: the Sniper Rifle
Shadow: oiy........hey Taylor....wanna go play grand theft auto 200 =D
Endac: thats the happiest i've seen him
Dusk: it's horrible O-e
Gale: *looks at Shadow* @_e MY EYES *falls down unconcious*
Shadow: -_-'.........funny
Maria: stop smileing hon or else the whole crew will die *kisses him on the cheek while walking by
Shadow:............right...............
Endac: ROFLMAO
Community content is available under
CC-BY-SA
unless otherwise noted.