Personality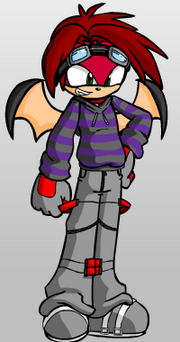 Red is Naive and sometimes Harsh. But will always try to protect Mobius.
History
Red was named Red sense he has Red Fur. His parents are unknown but it was simple to say one was a Hedgehog and one was a Bat.  He also has a Robot Counterpart made by Ace the Chameleon His Robot Counterpart Metal Red will be told about on another Content.
Powers
Fly
Strength
Chaos Control (Only when Super)
Hyper Blast (Only when Hyper)
Weaknesses
Lava
Very Strong Blast
Fear of Eggman taking over Mobius
Metal Red
Metal Red is a evil Counterpart created by Ace the Chameleon 
Metal Red 0.1
Metal Red 0.2
Metal Red 0.3
Metal Red 0.7
Metal Red 1.7
Metal Red 2.4
Metal Red X
Qoutes
Let the battle begin! (Starting a fight)
You cant stop me... (About to win a fight)
Urgh... (About to lose a fight)
Hyper... GO! (Turning Hyper.)
Lets do it! (Starting a Stage.)
Epicly epic!! (Rank S)
Awesome! (Rank A)
Alright! (Rank B)
Heh... Er.. (Rank C)
.... (Rank D)
Theme Song
Community content is available under
CC-BY-SA
unless otherwise noted.