</noinclude>{{subst:Character Article}}<noinclude>
Basic Info
Full Name
Randy "Ranbuild" Therbilder
Nicknames
Ranbuild, the Ranbuild man
Relationship Status
Single
)
Appearance
Biographical Info
Current Residence
Ranbuild HQ
Personal Info
Likes
Building
Snags Work boots
Ice Cold Cordial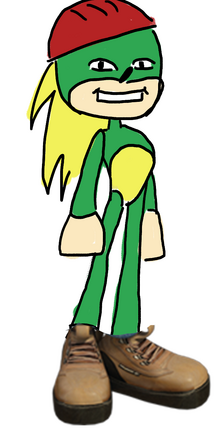 Ranbuild the Hedgehog is a green construction hedgehog who owns his own building company. He first appears in [1]Sonic the Hedgehog as an unplayable character.
Appearance
Ranbuild is all green with yellow highlights, he dons a red hard hat and brown work boots. He can usually be seen with a cheeky grin.
Personality
Ranbuild is very helpful and knowledgeable in the field of construction, he is always here to lend a hand when someone needs the best. Ranbuild is always sure to greet people with a cheerful "g'day" and is never happier than when he's hard at work.
History
Ranbuild was born during the shed renaissance and grew up around many influential shed builders sparking his interest in the field.
Ranbuild completed a TAFE course in shed construction as well as OH&S training and various building licences.
He was drafted for the shed wars of 1967 and was awarded the (shed) medal of honor for his bravery.
Ranbuild started his own building company in the late 70s that advertised quality sheds built fast, he quickly rose the ranks to become the greatest building company down under. Ranbuild still pursues his company to this day.