Theme Songs
Revenge by Girl on Fire
Serving as Raiden's theme song in
Clash of Mythics: Genesis
, it displays his self-determined purpose to avenge his fallen comrades, and especially his father, by killing Zagan by himself. Meanwhile, it does show some hints of how Raiden tries to maintain a stoic face through it all.
Connection to Character
Am I gonna sit and watch, and let you take control? Will I ever make this stop, and let these thoughts unfold? - Raiden often trying to keep his emotions at bay to maintain his cool and collected demeanor.
Coming to a place in time, releasing what's inside...! I've gotta take away, ALL THIS RAGE RIGHT NOW! / Write these thoughts on a page, and LET YOU KNOW RIGHT NOW! - Raiden unleashing his inner rage and intent to exact vengeance.
I'm gonna get MY REVENGE...! And FACE THIS NOW! Gonna get MY REVENGE...! - Raiden vowing to get even with Zagan.
You are just the empty hope, and the only thing left...! With thoughts that devastate, I can't repeat myself! - Raiden having almost nothing to lose in his vengeful road.
When the stars come crashing, thrashing waves of sorrow down around us... / Will the threat feel silent...? A violent world come crashing all around me... - Raiden wondering whether Zagan will show the same fear and anger he himself felt.
Will you save yourself...? - Raiden asking Zagan what he will do when he finally manages to overcome him.
Going Down by Sick Puppies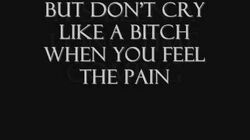 Serving as Zagan and Raiden's rival theme in
Clash of Mythics: Genesis
, it showcases their relentless clash with one another for their own reasons. In Raiden's case, he's come to exact revenge against the Gravebringer for murdering his fallen comrades by getting even and showing no mercy doing so.
Connection to Character
Define your meaning of fun - to me it's what we do WHEN WE'RE BORED...! / To me it's when WE'RE GETTIN' DONE...! / I feel the heat comin' off of the blacktop, and it makes me WANT IT MORE...! / So, get ready for ANOTHER ONE...! - Both Zagan and Raiden ready to go at one another at anytime and anywhere.
It's been a long time comin', and the table's TURNED AROUND...! 'Cause one of us is goin'...! One of us is going down! / I'm not runnin'...! It's a little DIFFERENT NOW...! 'Cause one of us is goin'...! ONE OF US IS GOING DOWN! - Both Zagan and Raiden being relentless as they clash against one another.
Let's take a trip down memory lane! The words circulate IN MY BRAIN! / You can treat this like another all I'm sayin', but don't cry like a bitch WHEN YOU FEEL THE PAIN! - Raiden's resolve to show Zagan no mercy as he avenges his fallen comrades
It'll be a long time comin', but you got the message now...! / 'Cause I was never goin'... Yeah, you're the one that's GOING DOWN! - Raiden making his intentions to exact revenge clear to Zagan
---
Community content is available under
CC-BY-SA
unless otherwise noted.