Radical Ride is the fifth stage in Team Heroes' story in the game Sonic Shockwave Riders.
Story
Following the path of the beam, Sonic, Tails and Knuckles head to Dr. Eggman's Metropolis to retrieve the 1(and half) Shockwave Key(s). The team board Eggman's locomotives in order to enter the base without being detected. However, the plan fails with Eggman ordering their destruction, shooting missles and self-destructing the trains. The team must make it way into fully-guarded Metropolis.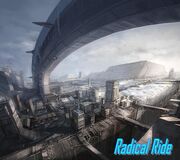 Overview
The race takes place inside a myriad of complex tubes and a grand iron railway with steel-armored locomotives. The course is rather difficult as there are multiple hazards (such as broken rails and tubes, blazen trains, robots firing etc.) and loops. The race begins on top of a locomotive. The player makes his/her way through a ramp and into a series of tubes and loops where he/she must exit quickly before the trains crush him/her. In the middle of the course the player uses again a huge ramp to jump onto a larger train and then onto another. Steep, narrow bridges connect the railway with the base's frontiers.
Mission
In the race, the player can choose up to 3 characters. There are a total of 12 racers in the track: Sonic, Tails, Knuckles, SR-4X, SR-4X, SR-4X, SR-4X, SR-4X, SR-4X, SR-4X, SR-4X, SR-4X. The mission of the player is to escape from Eggman's robots and reach their destination: Dr. Eggman's Metropolis.
| | |
| --- | --- |
| Mission | Clear the stage in under 2:30 minutes. |
| Characters | Sonic or Tails or Knuckles |
Community content is available under
CC-BY-SA
unless otherwise noted.