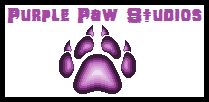 ~ This page is a creation of Purple Paw Studios ~
~~~~~~~~~~~~~~~~~
Basic Info
Full Name
Racoros the Ocelot
Relationship Status
Taken
Appearance
Description
Fur:
Blue-gray
,
Chinese blue
, and white
Eyes:
Bronze
Biographical Info
Personal Info
Occupation
Ice Clan tactician
Skills and Abilities
Abilities
Strategical combat
High intelligence
Racoros the Ocelot is a tactician that serves the Ice Clan of Kyanos. He is also the boyfriend of Banjir the Dibbler.
Physical Description
A lean ocelot who stands a bit over three feet tall, Racoros has a short muzzle with a triangular nose, somewhat small, rounded ears, and a fairly slender, medium-length tail.
His fur is primarily blue-gray in color, with a white muzzle, eye markings, chest, and stomach; he has a collection of Chinese blue rosettes and splotches decorating his shoulders, upper arms, back, thighs, and tail rings, and also has ears and facial markings of the same coloration. He has no hair on his head, instead having a tuft of longer fur, and his eyes are bronze in color.
History
Childhood
Abilities
Base Stats
Stamina
Good
Strength
Good
Energy
Average
Durability
Average
Resistance
Average
Speed
Great
Reflexes
Great
Magic
N/A
Kinesis
Great
Intellect
Superior
Other Stats
Eyesight
Superior
Hearing
Superior
Olfactory
Great
Being a tactician, Racoros excels in strategical combat, with a heavy emphasis on (often physical) combos, either performed with his own techniques or with the help of allies. He excels at whittling down his opponents with swift combos.
His keen eyes and high intelligence make him an invaluable observer, and this allows him to relay important combat information to his allies; this also allows him to play with his opponent's mind, often by playing on their vanity. However, single attacks from him are rather weak, and he is overall fragile, as well, forcing him to rely on his agility to survive.
He is an adept cryokinetic, and primarily uses low to mid-tier techniques of the Ice element, such as Ice Shard and Freezing Slash. Being an ocelot, he has a keen sense of sight and hearing, and also has sharp teeth with strong jaws, allowing him to deliver punishing bites. He also has natural weapons in the form of his claws.
Strengths/Resistances
Racoros is relatively resistant to the Elements of Ice and Water (his Ice resistance is somewhat higher, however). He is quite fast, and can easily outpace slower foes and evade their attacks.
Weaknesses
Racoros is weak to the Elements of Fire and Earth. His defenses aren't anything special, therefore he mostly relies on his agility to try and evade potentially devastating attacks. Being a manipulator of Ice, severe ambient heat can render his powers nigh useless.
Friends and Foes
Friends/Allies
Rivals
Enemies
Family
Romance
Personality
Unlike his sister, Racoros is much more calm and level-headed, often maintaining an easy-going disposition even in the middle of a fight. While he has a bit of an arrogant air to him, he's warm around his friends, even if he tends to come off as blunt on occasion.
He's very protective of his boyfriend Banjir, being worried that the dibbler's gullible and easy-going nature could get him into trouble and get him hurt.
Positive Traits
Neutral Traits
Negative Traits
Quotes
Notes/Trivia
His name is the Romanian word for "cool".
Community content is available under
CC-BY-SA
unless otherwise noted.