This page is scheduled to be archived.
Not to be confused with the PBC's in any of these countries.
Prower Broadcasting Corporation



The current "Chev" PBC logo.

Network type
de facto public broadcaster
Country/Countries
Federal Republic of Emeraldsbourg
Availability
F.R.E., Fow Toth Town, parts of Plance and Echidna Country


Scootania (through PBC Scootania)
Worldwide (through PBC Mobius)

Founded by
Miles "Tails" Prower
Motto
Trust, Liberty, Honesty
Owner
The Miles Prower Company (to be operated as a public benefit corporation)
Key people
Miles "Tails" Prower (owner)


Procom (regulator)

Launch date
December 1, 2009 (as PBC)
The Prower Broadcasting Corporation, commonly known as the PBC, is a de facto public service broadcaster for the Federal Republic of Emeraldsbourg and the Home Islands. While not the largest broadcasting organization on Mobius, the PBC is listed near the top. The PBC is owned by The Miles Prower Company, however, the broadcaster is required to act as a public benefit corporation. Established as a fledgling group of stations in late 2005 (TTN), the PBC has since grown exponentially. Opponents of the PBC say that the company is a true "imperialist corporation", citing its uncontrollable expansion in recent years.
While the PBC is not a public broadcaster per se, the corporation runs on a government charter and is funded by the public, making the PBC a de facto public broadcaster. The current charter expires on December 1, 2019. Many say that the charter is like the life force of the PBC; if it was ever to be destroyed, the PBC would never exist. The charter's second amendment (2010) prohibits the use of commercials on all domestic PBC channels; all revenue is collected through license fees for TTCable customers and annual charter grants.
The PBC has a "shared resources agreement" with Echidna Radiodiffusion (ERD), Echidna Country's public broadcaster. As such, domestic PBC resources are used to cover the sovereign state in case of an emergency or any other event that compromises the ERD's ability to operate.
History
TTN history and STV history can be found in this section.
Setting the Stage
On December 1, 1949, the Oldham transmitter was powered on, bringing public television to Mobius Corners. The Oldham transmitter carried programs from the ETC (Emeraldsbourg Television Corporation), which, until 1983, was the only television network allowed to operate in Emeraldsbourg. In 1983, when the ETC lost its exclusive license to television broadcasts, MobiMedia signed on. Many historians argue that if Parliament had never been so lenient, then no privatised television network (e.g. PBC) would exist.
The rest of the Midlands gained television broadcasts by 1954. West Allis, Parkview, and Owisagan gained television by 1960, and Emeraldsville had its first station sign on in 1961. In 1957, WHMC-TV signed on as an independent station in Mobius Corners, becoming a MobiMedia affiliate in 1983. In 1968, WTTA-TV signed on as an ETC affiliate in the West Allis area. In 1972, both WTTH-TV and WOZS-TV signed on. In 2000, WCAS-TV signed on in Parkview.
Forming TTN
In 2005, TTN (Tails n' Things Network) came on the air, with WTTA-TV 4 as its first affiliate. TTN's first program as a network was The Opening, which still airs today. TTN was originally intended to be a television channel for documentaries and drama series, but the network quickly outgrew those restraints. In early 2006, TTN passed MOTV and the public broadcaster ETC for second place, behind MobiMedia. The dominance of the loosely organized network was made possible by dramas such as Street Cop, Emerald Runner, and comedies such as Mishu. WHMC, WTTH, WOZS, and WCAS (WTTN) all signed on to TTN by 2007. TTN promoted morale and friendliness in a turbulent environment. Thus, most of the network staff at TTN in 2006-2007 are still at the PBC today.
However, TTN was not without its own problems. As new stations joined the network, it was feared that the network would not be able to successfully provide quality programs in the future. Also, ETC's new drama Betsy Blues proved to be a pain in the rear for TTN, with the network finishing in last place for the mid-afternoon slots in 2006. By the beginning of 2008, TTN was struggling to hold on to second place, as the ETC pulled its act together and launched quality programs, as well as delivering (as a state-owned network,) emergency announcements ahead of time.
2008 Great Eggquake
Prower Center was opened in late 2007 as a mixed-use development northwest of West Allis. TTN moved the majority of its operations there to provide a central feel to the network. The majority of the West Allis area was built atop a major fault line, which last shook in 1841. In January 2008, a powerful M7.3 earthquake began 50 miles north of Prower Center, and the waves soon spread out over a radius of about 200 miles in every direction. The "Eggquake" caused over M3 billion in damage. Prower Center emerged with moderate structural damage, and the TTN complex was all but destroyed. It was not until the launch of the PBC in 2009 that the facility was completely rebuilt.
TTN had to cancel at least 4 of its best series, including Mishu, due to a lack of adequate studios for filming. The remaining shows had to be taped at WHMC and WTTN's studios. On the positive side, ETC and TTN came together to develop the QuickWarn system, a simple way to alert the public of hazards, such as earthquakes, tropical systems, and severe weather.
New Year, New Network
The fall of 2008 was TTN's most turbulent season since its beginning, as it finished in third place in almost every slot, with the exception of Saturday mornings. Miles Prower knew that new shows would not save the network, but only a complete relaunch and makeover could. The creation of Prower-Hedgehog Inc., or PHI, augmented the necessity. Finally, the slump of TTN into fourth place by winter made a relaunch inevitable.
On January 1, 2009, Sonic Television, or STV, launched. STV brought back Mishu and launched new, high-quality shows, such as The Key and Momma, Where's my Moolah?. STV made the quickest resurgence of any television network, and by the summer of 2009, STV was back in second place. During Cyclone Bettie in July, STV provided the longest wall-to-wall coverage of he storm, at the grand total of 32 hours and 19 minutes. In August, a Chaos Emerald was found near the Prower Center reconstruction site; STV management kept it.
Rebellion, anyone?
Every major television network in Emeraldsbourg was crippled, or in the case of the tiny BurgerNet, annihilated during the Rebellion of 2009. Although the violence was centered in the Capital Center region, Parkview was completely obliterated. STV's leadership were placed at odds over how to cover the events following the Rebellion. Some Board of Commons members wanted STV's operations and news base to be based out of Wyattsburg for the duration of the Rebellion, while others wanted to remain in West Allis. Ultimately, the latter half won, and operations remained in West Allis.
WTTN's studios were obliterated, and WHMC's studios were heavily damaged. STV had to cancel 45% of its programming that month, while popular shows were moved to Echidna Country (a "safe haven",) and were co-produced with ERD, the public broadcaster there. Even today, PBC stations in Mobius Corners are still broadcasting from suburbs, instead of the mainstream studios.
Enter: The PBC
The scuffle in STV's leadership eventually reached a boiling point in November 2009. After entering a fit of rage, Miles Prower left the meeting room. Unknown to everyone else, Tails made plans with the Mobian Communications Commission (MCC) to launch a new network called the Prower Broadcasting Corporation, or PBC. WTTN unanimously agreed to join the network. By December 1, launch day, WTTN, along with WOZS, WTTA, and WHMC, had joined the PBC. On December 4, STV was dissolved and PBC took over the frequencies of the new network.
The PBC was flawed from the start. Tails decided to follow a centralization model, with the stations becoming satellites of WTTA-TV. Graphic design was based out of Prower Center, and local stations were only provided a 30-minute news slot for local news. While some small stations, such as WOZS, liked the idea...larger stations protested the idea.
Post-Centralization
Eventually, PBC leadership gave in to the demands of the larger stations; the Local Diversity Decree abolished all forms of centralization and brought the PBC to a TTN-esque state, with the public network composing of a decentralized affiliate pattern. Since the end of the franchising era, however, the PBC has started to tighten the reins again, with Procom buying out all PBC affiliates in June 2011.
Services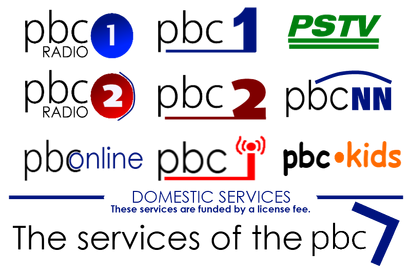 PBC Domestic
PBC's domestic Emeraldsbourg and Fow Toth Town operations are managed by a subsidiary of the PBC, PBC Domestic. PBC Domestic is responsible for domestic television, radio, and online services. All operations under PBC Domestic are funded by the license fee.
PBC Television
The PBC has 20 affiliate stations, all of which broadcast in DVB-T digital. All PBC local stations must carry both PBC1 and PBC2. PBC television transmissions in Emeraldsbourg and Fow Toth Town are encrypted; reception of domestic PBC television services is impossible without a FreeTele box and a reception license.
| Callsign | PBC1 | PBC2 | Market (City of License) |
| --- | --- | --- | --- |
| PBCM | 9.1 | 9.2 | Mobius Corners (Midlandsville) |
| PBCP | 11.1 | 11.2 | Parkview |
| PBCA | 4.1 | 4.2 | West Allis (Trussville) |
| PBCN | 14.1 | 14.2 | North Peak (Doyle) |
| PBCR | 8.1 | 8.2 | Medialtown |
| PBCO | 16.1 | 16.2 | Owisagan |
| PBCC | 26.1 | 26.2 | Perkins City |
| PBCE | 6.1 | 6.2 | Emeraldsville (Harrison) |
| PBCL | 40.1 | 40.2 | Lylatown |
| PBCY | 2.1 | 2.2 | Stewartstown |
| PBCW | 10.1 | 10.2 | Oshawa City |
| PBCS* | 20.1 | 20.2 | Surryville |
| PBCH | 23.1 | 23.2 | Alexandertown (Hyatt Grove) |
| PBCI1 | x.1 | x.2 | Islands |
| PBCB | 26.1 | 26.2 | Blackville |
| PBCF | 7.1 | 7.2 | Fow Toth Town |
| PBCD | 3.1 | 3.2 | Davidson |
| PBCJ | 30.1 | 30.2 | Joshowici |
| PBCK | 12.1 | 12.2 | Willisville |
| PBCG | 48.1 | 48.2 | Harristown |
* - PBCS acts as a semi-satellite of PBCP in Parkview.
1 - PBCI acts as the only PBC station on the islands. The primary transmitter is in San Rico (channel 5.1/5.2), with repeaters on the Leeway Islands (54.1/54.2), Loka Toka (6.1/6.2) and Westside Island (19.1/19.2).
PBC Radio
As a public service broadcaster, PBC's charter requires the production of radio broadcasts. The public broadcaster operates two domestic PBC radio stations: PBC1 Radio and PBC2 Radio. Both radio stations are commercial free.
PBC1 Radio is the most popular PBC radio network in Emeraldsbourg; the station plays a variety of R&B, soft rock and hip-hop music. News programs are common, with the most popular being The News Today. PBC1 Radio's headquarters are located at the Radio Building in Prower Center.
PBC2 Radio is the counterpart of PBC1 Radio.
Funding
The PBC is funded through two means: the license fee and annual charter grants. The revenue collected is used to fund the PBC's daily operations; the charter forbids any external use of license and grant revenue.
License fee
Before the switch to DVB-T broadcasts, every TTCable customer1 automatically received a television license for his/her household, which allowed the household to receive PBC broadcasts. The license fee showed up monthly as a M4.50 surcharge on the cable bill. In return, every TTCable customer did not have to pay the compulsory ETC license fee. Some Procom officials claim that the license fee couldn't be bypassed, as it appears as only a surcharge on a cable bill. Those who do not subscribe to TTCable were not required to pay the fee.
With the advent of the FreeTele box and DVB-T digital broadcasts, all viewers of PBC and ETC programming must pay a license fee of M96 annually(M8/month,). Half of the total fee goes to the PBC.
60% of the license fee is used to fund the network's operations (news bureaus, network programs, etc.), while the other 40% is used to fund local affiliates of PBC1.
Charter grants
Article 4 of the PBC charter establishes a "yearly grant" of money for PBC's corporate operations. The amount of money given yearly will vary, but the amount must never be more than 5% of the previous year's total revenue.
Community content is available under
CC-BY-SA
unless otherwise noted.