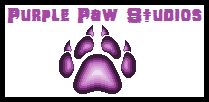 ~ This page is a creation of Purple Paw Studios ~
~~~~~~~~~~~~~~~~~
Basic Info
Full Name
Poletamine the Quoll
Species
Mobian/Eastern Quoll
Appearance
Description
Fur:
Orioles orange
,
peach puff
, and white
Hair:
Black
Eyes:
Pearly purple
Biographical Info
Personal Info
Occupation
Fire Clan trader
Skills and Abilities
Abilities
Basic combat
High agility
Poletamine the Quoll is a trader that serves the Fire Clan of Fiamme.
Physical Description
A somewhat chubby quoll who stands a bit over three feet tall, Poletamine has a somewhat short muzzle with a triangular nose, medium-sized, somewhat triangular ears that mostly stand upright, and a medium-length tail that tapers down to a point.
Her fur is primarily Orioles orange in color, with a peach puff muzzle, inner ears, chest, and stomach, as well as a white tail tip, and white spots on her back, face, and shoulders. Her hair, which is shoulder-length and mostly straight, is black in color, and her eyes are pearly purple in color.
History
Childhood
Abilities
Base Stats
Stamina
Good
Strength
Average
Energy
Average
Durability
Average
Resistance
Average
Speed
Great
Reflexes
Good
Magic
N/A
Kinesis
Good
Intellect
Great
Other Stats
Eyesight
Great
Hearing
Superior
Olfactory
Great
As a trader, Poletamine hasn't been trained in the art of combat; while she does carry a dagger with her for protection, her skill with it is only basic at most, and she only knows how to punch and kick when it comes to hand-to-hand combat. Her physical strength isn't anything special, but she is quite fast.
She has a strong sense of direction, however, as she travels frequently. She also has keen ears, and can detect soft sounds from as far as 20 feet away. Being a quoll, she has sharp teeth and pretty strong jaws, and can deliver painful bites if she needs to.
Strengths/Resistances
Poletamine is relatively resistant to the Elements of Fire and Nature (her Fire resistance is somewhat higher, however). She is quite fast, and can easily outpace slower foes and evade their attacks.
Weaknesses
Poletamine is weak to the Elements of Ice, Earth and Water. Her defenses aren't anything special, therefore she mostly relies on her agility to try and evade potentially devastating attacks.
Friends and Foes
Friends
Allies
Rivals
Enemies
Family
Romance
Personality
Positive Traits
Negative Traits
Neutral Traits
Quotes
Notes
Her name is the Estonian word for "burning".
Community content is available under
CC-BY-SA
unless otherwise noted.