This page is still unfinished
Darkest Shadow, the author of My Sweet Life, considers this page to be unfinished. As such, some sections may change.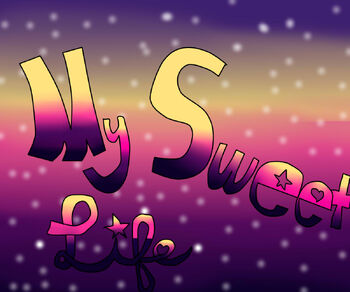 My Sweet Life
is an anime series created by Darkest Shadow. It is the brand new rebooted series of the Mariala Anime. Episodes will be out starting March 24, 2015. The anime focuses mainly on the main characters and what life is like being popular.
There are a total of 4 confirmed seasons. The first season focuses on them being introduced and what they usually do. The second season focuses on a series of secrets.
Overview
There are many talented people of the world. All of them are unique in their own way. Some are well known for their talents, some aren't. Sometimes, you just need to think about how lucky you are for everything that people give you, and your gifts. Your life is pretty sweet.
The main group of characters show exactly just that! This show is about popular, rich, and/or famous people and how their lives are. They show their rivals, their ups, their downs, their everything.
Plot
My Sweet Life
Alexis is an eighteen year old fox well known for her amazing vocals. Ever since she was 11, she has been writing songs and selling out arenas all over the world. She has the least amount of episodes focusing on her, but she is the main protagonist of the series. She is usually seen as the trendy one of the group. Alexis has been absent for a few episodes due to concerts and talk show requests and sometimes shooting for commercials. However, her main goal is to save her friends and singing of course.
Full Name: Alexis Caroline Petals
Age: 18 (Turned 18 on June 26)
Main Talent: Singing
Sport: Volleyball
Instrument: Flute
Role: The Trendy One
College: Arcadia University, Arcadia Island
Parents: Concordia the Fox and Sean the Fox
Siblings: Sasha Petals (Older sister)
David is a nineteen year old hedgefox known around the globe for being one of the top skateboarders of the world. His training has came a long way, as he started off from small half-pipe contests with his friends, to winning trophies and cups in the X Games. He is usually seen as the laid back one of the group. He has no episodes focused on him, but he is usually seen skateboarding everywhere. It is rumored that the episodes David doesn't appear in are the episodes he is with other people having competitions.
Full Name: David Maxwell Sabato
Age: 18 (Turns 19 on October 25)
Main Talent: Skateboarding
Sport: Skateboarding
Instrument: Drumkit
Role: The Laid Back One
College: Gilliguard Community College, Gilliguard Town
Parents: Meline the Hedgehog (Mother) and Ray the Fox (Father)
Siblings: N/A
Christina is an eighteen year old hedgecat known to be one of the biggest fashion icons in the world. When she was younger, she competed in small pageants to show off her beauty and talent, and now she is one of the top models seen on magazines, television commercials, billboards and more. She is seen as the modest one of the group, and has half of the episodes focused on her, mainly focused on several extremely difficult challenges and tasks.
Full Name: Christina Sabrina Transon
Age: 17 (Turned 17 on January 7)
Main Talent: Fashion
Sport: Gymnastics
Instrument: N/A
Role: The Modest One
College: Crystalyne Fashion Branch of Alskora University, Alskora City
Parents: Carly the Cat (Mother), Tempest the Hedgehog (Stepfather) and Gold the Hedgehog (Father)
Siblings: Lina the Hedgehog (Older sister), Bloodstone the Hedgehog (Younger half-sister), Storm the Hedgehog (Younger stepbrother), Emerald the Hedgehog (Younger stepsister)
Michelle is an eighteen year old cat who is pictured as multitalented. She is best known for her amazing gymnastics, getting her to qualify and then enter for the 2017 Summer Olympics. However she is also an actress, and auditions for the movie Lovey Dovey, scoring the main role. However, her biggest obstacle throughout the series was her knee injury lasting more than 10 episodes, and spent 4 months without doing anything.
Full Name: Michelle Sabrina Fifi
Age: 18 (Turned 18 on May 12)
Main Talent: Acting
Sports: Gymnastics, Diving and Wrestling
Instrument: N/A
Role: The Fun One
College: Finsker School of Drama and Performing Arts, Foundington
Parents: Paul the Cat and Dawn the Cat
Siblings: Maranda the Hedgehog (Adoptive sister)
Alyssa is a young thirteen year old dog known best for her spectacular dancing. The star and face of the MYSDC, she is a rising star to the celeberity world. She is the cute one of the group, with a few episodes focusing on her. She usually is cheerful and manipulative of doing whatever others want her to do.
Full Name: Alyssa Melinda Amotran
Age: 13 (Turned 13 on April 8)
Main Talent: Dancing
Sports: Dance
Instrument: N/A
Role: The Cute One
College: None; too young
Parents: Bob the Dog (Father) Unnamed mother
Siblings: N/A
Full Name: Krystal Avril Escavirlno
Age: 19 (Turned 19 on February 9)
Main Talent: Magic
Sports: N/A
Instrument: Pipe Organ
Role: The Serious One
College: MaryAllan Magic and Sorcery Branch of Gaudia University
Parents: Lysandra the Alicorn and Angus the Unicorn
Siblings: N/A
Full Name: Thresh Caeser Grasswood
Age:18 (Turned 18 on May 26)
Main Talent: Strength
Sports: Baseball, Swimming and Football
Instrument: N/A
Role: The Dark One
College: Oakridge University
Parents: Unnamed father
Siblings: N/A
Full Name: Ricardo Caesper Fernandez
Age: 18 (Turned 18 on June 30)
Main Talent: Cooking
Sports: Lacrosse
Instrument: Guitar
Role: The Cool One
College: None;decided to stay out of college
Parents: Sergio the Wolf (Biological father) Lucia the Wolf (Biological mother), unnamed foster parents
Siblings: N/A
Summer of Sweet Secrets
The Summer of Sweet Secrets is a series to promote and start a brand new spinoff, Golden Secrets.
TBA
TBA
TBA
TBA
TBA
TBA
TBA
Episodes
Season 1: My Sweet Life
First Aired March 24, 2015
My Sweet Deal- Alexis Petals gets a record deal to perform at her dream studio.
My Sweet Money- Lili the Cat from Gaudia loses all of her money, and everything she owns;including Christina's mansion.
My Sweet Angel- Mimi and her team kidnap Alyssa and uses her for a week.
My Sweet Hero- Danny saves Christina's life, while Cole watches.
My Sweet Sugar- Michelle pranks Christina by pouring 20 sugar packets in her drink, making her go crazy.
My Sweet Shun- Christina accidentally spills makeup all over Angelina's expensive diamond ring, and shuns her in return.
My Sweet Crush- Ricardo develops a crush on Krys after she helped him out majorly in battle, and it gets on her nerves.
My Sweet Gossip- Danny and Cole overhear Alexis and Christina talking about each other, and possibly ruin their love.
My Sweet Injury- Michelle badly injures her knee, and has
My Sweet Pageant- When Christina's pageant comes up soon, all of her clothes get ruined by Team Fashion.
My Sweet Mom- Concordia and Carly have a fight that might ruin Alexis's and Christina's friendship forever!
My Sweet Tap- Alyssa starts to practice tap dancing, but when she does it everywhere around her friends, it gets on their nerves.
My Sweet Game- The Eight Mates have a huge game night with their friends.
My Sweet Date- The Eight Mates have a sextuple (6 couples) date, but Krys and Ricardo are both single.
My Sweet Hair- Christina witnessed a young girl have all of her hair shaved off. Because of this, Christina does something unbelievable.
My Sweet Liar- After a clique notices Michelle, she stops hanging out with her friends and makes up excuses to not hang out, and lies to them about many things.
My Sweet Junk- The Eight Mates spot Christina takes an obsession over hoarding somewhat useless items. What could she be hiding?
My Sweet Heartbreak- Candlelight finds out that Evergreen is moving away to the west coast, and the Eight Mates try to cheer her up.
My Sweet Announcement- Krys and Ricardo announce that they are boyfriend and girlfriend.
My Sweet Concert- Just a few months ago, Alyssa releases her first song on oTunes. Hundreds of millions of people buy it, and she is scheduled her first concert in 5 days.
My Sweet Stepdad- Christina's stepfather, Tempest, ends up with amnesia. His family has to adjust to his new life.
My Sweet Grief- Today marks the 3 year anniversary of Candlelight's father's death, and Candlelight refuses to come out of her room.
My Sweet Recovery- Michelle recovers from her recent injury, and is a little nervous to go back to gymnastics.
My Sweet Two-Face- Mindy develops a friendship with Christina. However, Christina is unaware that she is taking advantage of her.
My Sweet Family- Christina is in charge of the Mariala Family Reunion, and she has no idea what to do.
My Sweet Graduation- The Eight Mates graduate high school together, but a scandal goes out to the principal saying that The Eight Mates failed the whole year.
Season 2: The Summer of Sweet Secrets
First Aired May 11, 2016
Pilot- Eight months after graduating the MCA, Alexis reunites with Michelle and David, after the disappearance of an old friend.
Bad Romance- Alexis meets Kevin and goes out with him;David gets a text from CC that will make his whole life change;Alyssa is reunited with the group and hops on the disappearance trail.
House of Lies- CC exposes a photo of Kevin and Alexis making out, and it goes viral around the city;Candace's house is burned down, with Candace knocked unconscious.
Turn Up, Girl Down- Alyssa goes to a party;Michelle is sent into the woods where Christina went missing;Sasha returns to talk about the past with Alexis
A Series of Traps- Michelle is locked in a barn;Candace is trapped inside an elevator;One of Alyssa's friends is trapped inside a bathroom
A Series of Surprises- Alyssa goes to the asylum where Mimi is to get some answers about Christina;Michelle goes to Mildred's funeral;Ricardo returns
Bye, Bye, Blondie- The Originals tell Carly and the Transon family about Christina's death;Sebastian breaks up with Michelle;Alyssa builds a memorial to remember Christina by
Oh What Fun It Is To Ride a One Horse Open Sleigh- Ricardo hunts down Thresh to give in some answers;An old friend of Alexis's stops by for a visit
The Suspect List- The Originals meet together and form a list on who they think could potentially be CC
Sister Struggle- Maranda, Michelle's sister, marries a man that nobody would expect;Alyssa reunites with an old friend with horrible news;Thresh and Ricardo see a familiar face in hopes of more answers.
Begging for a Dime- Alyssa meets a homeless boy;Michelle convinces Alexis to take silk acrobatics
When Glass Cracks- Today is Mary's birthday, and she is throwing a sleepover party at her cabin, but something awful happens to one of the originals.
Old Ways- David gets invited to judge the Sk8Lympics in Hermenes City
If Only She Were Alive To See This
Angel of Darkness
Ricardo, Oh Ricardo, Wherefore Art Thou Ricardo?
Ghosts Are Real
Blindsided
Nice Doesn't Always Mean Good
Live For the Danger
Love Sick
Girls Just Want to Have Fun
I C U
C U Later
Season 3: Fish Tales
First Aired June 19, 2017
Season 4: Crime Busters
First Aired January 3, 2018
Trivia
After the 21st episode of MSL, Dark-Angel Studios took a long break for a few weeks and lost the data for MSL22-30. The series started up again on September 18, 2015. Then they took another long break, returning on October 2.
Season One and Two will have a four year time jump
Season Three will happen at the same time as season one
Season Four has a year time jump from Season Two
The creator might consider making Season Two it's own show called "Golden Secrets"
Notable Differences from Darkest Shadow's Main Universe
There are some significant differences that were made in the series that aren't involved in the creator's original universe:
The Eight Mates met in a different way
The heroes don't attend the MCA
Ricardo lives in Mariala City, instead of where he lived in the original universe
Krys was never a member of Team Fashion
Team Fashion never hated Christina because of a simple pageant loss
Alyssa and Cream are cousins, instead of sisters
Tempest didn't have a wife before Carly
Christina cut her hair for a different reason
"The Princess and the Porcupine" never existed
Michelle never injured herself
Christina is dead in the series, but alive in the canon universe
 

My Sweet Life episodes

Season 1

My Sweet Deal

,

My Sweet Money

,

My Sweet Angel

,

My Sweet Hero

,

My Sweet Sugar

,

My Sweet Shun

,

My Sweet Crush

,

My Sweet Gossip

,

My Sweet Injury

,

My Sweet Pageant

,

My Sweet Mom

,

My Sweet Tap

,

My Sweet Game

,

My Sweet Date

,

My Sweet Hair

,

My Sweet Liar

,

My Sweet Junk

,

My Sweet Heartbreak

,

My Sweet Announcement

,

My Sweet Concert

,

My Sweet Stepdad

,

My Sweet Grief

,

My Sweet Recovery

,

My Sweet Two-Face

,

My Sweet Family

,

My Sweet Graduation

Season 2
Community content is available under
CC-BY-SA
unless otherwise noted.