Witch of the Southern Wind
Details
Basic Info
Age
Appearance- 15 True Age- 1365
Species
Immortal Magician/Human
Relationship Status
Single
Appearance
Color
Blonde hair with pale skin
Description
Short, wears a white shirt with a
black corset, a green charm on her chest. Wears a black skirt with a fake apron tied with a large bow.
Common brown boots.
Biographical Info
Current Residence
Near the Souther Border part of Hayashi
Relatives
Mezmoriza- Mother Haku- Master
Personal Info
Likes
Chocolate (lots of chocolate), fresh air, books, peace and quiet
Dislikes
Demons, annoyances, getting decapitated...
Friends
Kori Hitomi, Neko Miko, Arthur Shiranui, The Miko and Monks of the Seasonal Shrines
Foes
Mariko Masuyo, Mezmoriza, Zenzei Atrum, Any demon that harms innocents
Romantic Interests
Kori Hitomi (tsundere love)
Occupation
Guardian of the Southern Border
Skills and Abilities
Skills
Slightly increased speed
Abilities
Ability to use magic
Powers
High Wind magic and Space magic
Able to see the truth with her
eyes
Weaponry
A simple Graf Besn (Broom shaped wand)
Info
Mia was once a normal human magician until she successfully crafted the Elixer of Immortality. After taking the elixir, she has realized that it was the worst thing imaginable she was ever done to herself.
"You see a blessing, I see a curse!" ~ Mia
She lives in between the Hayashi Forest and Southern Border in Mobius. She was given duty to protect the lands beyond the Southern Border, like a gate keeper. She is immune to any death, which is why she was given the job in the first place. She can allow people to enter the border with Space manipulation, but she won't let them out unless she is currently with them. She lives with a fairy by the name of Ser'ee, who is her assistant. But Ser'ee does more harm then good in Mia's book. Because she never leaves her home, she lacks knowledge on social skills.
She uses wind and space magic. With the power of her wind magic, she can fly without a broom and turn into the very wind itself and become invisible. But she needs to be very careful when she sneezes, or she'll blow something away. Her wind magic is what made her known to be The Witch of the Wind, since she's a pro at it. But she is able to perform the taboo magic, Space. With it, she can manipulate distance and placement. She is able to make a gap out of then air and when she walks into it, she can walk into a distant place, also can be known for teleportion or summoning. She is able to conjure up Shikigami arms from her spacial holes and do many things with them, snatch, attack, defend, or just lend a hand. But the magic is hard to use even for Mia, and large space holes require a lot of energy to make and she gets tired out easily. She is able to combine her powers of wind and space and create great gusts of powerful wind from space holes, which she calls, Wind Tunnel.
But, she was born with a power. She has named it, "The Eyes of Truth". Her eyes are inhuman green color, and those eyes are able to see what others can't. She can see past illusions, disguises, and facades. Not even a Nue can deceive her eyes. Her eyes change when in use. She says the power to see the truth is a feared power, because the whole world is lying lately.
Mia is limited in other magic classes, but she tries in what she can do.
Mia likes to use a type of weapon, Exorcism Needles, with a combination of her wind magic, they become deadly knives. She has a endless amount, must be warned though. They home-on target. She uses them as projectile weapons, and since magic can't really kill demons that well, she uses them. She can accurately pin down a demon with them.
Attire
Hair- Very light blonde, tied in a ponytail with a green bow.
Eyes- A strange green
Skin- Pale
Height- 5 ft 2 in
Weight- 102 pounds
Clothes-
Top- A white shirt with a green bow on the front with white puffy short sleeves, wears a black bodice
Bottom- A black skirt with a frilly apron, with a large bow on the back
Shoes- Long brown boots with light brown stockings
Other- A black hat with green ribbon tied on it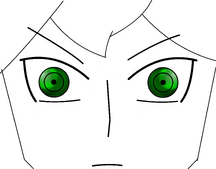 Appearances
Mia appears in the Roleplay:The Demonic Epidemic. She comes in after a experiment gone wrong and gets upset from the protagonists' behavior, but after finding out they were trying to save her friend Kazuki she gladly opens a portal to the Southern Border. She later escorts them to Wight's lair.
Mia makes a appearance in Corruption of Magicia, when Markar and Rolly try to get into the other side of the Border, she stops them and challenges them, she calls defeat and later become a party member.
Mia appears in Interactive Story: Hayashi Festival Mayhem. She is a powerful protector and the chief for the meals. But the thing that must take notice is that she's uncomfortable around demons being a exterminator. If it's not that, it's her gluttony getting the better of her...
Mia is the main character in Roleplay: Distortion of Hayashi, where she seeks out the culprit behind the space and time distortions in the forest of Hayashi.
Mia makes a appearance in Roleplay: Natural Enemies as one of the heroes, unfortunally the roleplay went to a early close...
Spells
Mia likes to name her spells...
Wind Magic Spells
(Aeromancery)

Wind Sign- Wonderful Vortex- A simple basic spell where Mia performs minor wind magic to create small vortexes around the victim.
Wind Sign- Corruptive Cyclone- Mia uses a combination of black magic and wind magic, the wind causes great debris of dark blasts and it homes on
Black Magic- Wind Tunnel- Mia's favorite spell. She uses a combo of space and wind magic, she opens a big gap where she blasts a giant powerful destroying tornado from it.
Secret- Body of the Wind- Mia becomes one with the wind and can make herself invisible.
Eternal Winds- Destruction of the Monsoon- Mia's most powerful spell, she manipulates the monsoon winds to create powerful wind storms. But this spell relies on the season for her power, the best time to use this spell is during late spring and early summer. She was able to learn this spell after gaining immortality.
Space Magic Spells
(Celestiamancery)

Spacial Sign- Shikigami of Sub-space- Mia uses this spell even when there was no need for it, she summons a bunch of shikigami arms to do her bidding. They can attack, wrapped, clutch, hold as if they're her extra limbs. She uses them for daily needs as well.
Spacial Sign- Displacement of Physical Body- Mia uses this spell to teleport from place to place by opening gaps. The bigger the gap, the more power she needs. She can go even on the other side of the world with this power.
Taboo- Displacement of Space- Mia uses a powerful spell that alters space around her, so that one pathway is altered into another. It is complex, and only she was able to master it. She also can disguise herself while in use of this spell.
Taboo- Nightmare World- A powerful spell where Mia curses all into a sub-world she has created, but the power use is so much that her body might end up being distorted as being split in two. She created a charm to prevent this from happening. (She wears the charm on her chest)
Inner Magic Spells
(Magic related to Mia's Gift)

Curse- Eyes of Truth- Mia uses the power of her eyes to see the truth in others. In offensive means, she can distort the minds of any who looks into them.
Curse- Eyes of False- A power that it took Mia a long time to work, she uses her eyes to hide the truth and can cause illusions instead of destroying them.
Mia's World- Mia uses the true power of her eyes and alter the world around her with a combo of her space magic. It is her most powerful spell.
Fun Facts
Mia only wears her magician hat in combat
No one has a clue on how she got all those Exorcism Needles
It is possible they were supplied by Neko Miko
She believes that if she protects the border, she'll slowly repay the sin she has done
She's good at doing her job because of her eyes and space magic.
Her last name is a variation spelling of the Japanese word for "Magic"
Lately, Mia has been attending festivals at the Spirit Shrine
She could possibly be warming up to humanity again.
She looks like a normal human girl, so people let their guard down
She is also a bit short, so she's teased a little. (Pun not intended)
Mia was made fun of her eyes when she was little
Due to her age, she believes she is becoming senile since she is forgetting a lot lately.
Despite being over 1000, Neko Miko is older then her
The only person who visits her regularly is Kori Hitomi
Mia can't die, but can suffer hunger and pain, and tiredness as well.
Mia is sometimes called a glutton, because she tends to eat large quantities of food
But being immortal, she can't gain weight, but she says that's not the reason why she eats a lot.
Mia can't be killed, but she can still feel pain. She keeps fighting until she blacks out from the pain.
She visits Hieonkawa only for shopping or festivals, but she's a bit elusive
It is shown more then once, Mia is paired with Kori
It's possible for a love relationship to start
She's a sucker for chocolate
She's a great cook
She has a great hatred towards Mariko, a novice magician.
It is believed this hatred is really jealousy for Mariko's great powers
Gallery
Community content is available under
CC-BY-SA
unless otherwise noted.