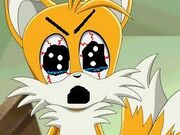 Hello, My name is Saffron Powell! I am former shapeshifter and queen of the Other Dimention! You are welcome to talk to me about myself,friends, games and most importantly, Sonic the Hedgehoggy! I also would love it if you invited me to help make a roleplay or make a character! I'm open to most ideas and admire all those of higher profession.
SaffronandLina (talk) 10:24, December 23, 2012 (UTC)
Woop-de-doo! the sunshine feels great Lina!
Community content is available under
CC-BY-SA
unless otherwise noted.