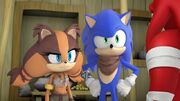 "Married to Sticks" is the one hundred and fifth episode in the Sonic Boom television series. It first aired on 26 November 2019 in France and on 30 November 2019 in the United States.
Synopsis
After two seasons of Sonic Boom, Sonic has fallen in love with Sticks and the badger loves the blue hedgehog also. Amy and Tails will do anything to prevent the couple to kiss and Sonic has to defeat Dr.Eggman one last time to prove himself brave to Sticks
Appearances
Characters:
Locations:
Gallery
Trivia
This Episode is the last appearance of Dr.Eggman (who dies at the end of the episode) and the first appearance of the Babylon Rogues who replaces Eggman as the primary antagonists of the show...
Community content is available under
CC-BY-SA
unless otherwise noted.