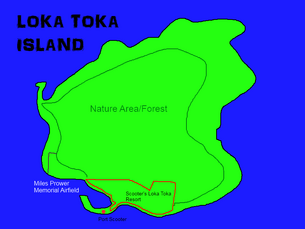 Loka Toka Island is a tropical island in the Emerald Sea, with similarity to Hawaii. Although Scooter the Hedgehog OWNS the island (one of his most important assets,) the island is, because Scooter is a citizen, under de facto control by the Federal Republic of Emeraldsbourg.
Beginnings
Scooter the Hedgehog began vacationing here after Tails' plane, the Tornado, crashed back in 2005. They looked around and noticed that this island was uninhabited. After returning home, Scooter came back and built his own vacation home here. In 2007, Scooter added Port Scooter (The sole port on the island,) expanded his resort, and signed a treaty with the Emeraldsbourg Nature Preserve Administration to designate the forests in the central part of the island as a Nature Area.
Today
Today, Scooter's friends come to visit him every year, when they come on a ship called the S.S Sonic (SSS). Eggman nearly capsized it once, but Sonic rushed in and you know the rest....
Following Shahooter's Rebellion, Emeraldsbourg stepped up security on the mainland. When Tails was almost murdered, Scooter built an airfield and named it the Miles Prower Memorial Airfield. The airport serves most island traffic that does not use Port Scooter.
Amenities
Port Scooter
Miles Prower Memorial Airfield
Scooter's Loka Toka Resort

Swimming pool
Nature Center
Weather Station
Roller Coaster
School
Villas with 2-3 bedrooms
Pier
Playground
Cathy's Nail Salon
GameHut Loka Toka
Loka Toka Village

Scooter's Nature walks
Community content is available under
CC-BY-SA
unless otherwise noted.