I mean, a lot happened over the past few years; I kickstarted my career, fell in love, got married, and even bore a daughter. Things changed, Christie. I grew up and started my life, and now you have the chance to start yours. This is a once in a lifetime opportunity! Nothing and nobody is holding you back. Take the job, move to New Oreal.


— Lina convincing Christina to move to Eifflyn.
Basic Info
Full Name
Lina Charlotte Moonbeam
Nicknames
Liana (Stage name)
Lin
Lina-Bean (Kester)
Linus (Team Fashion)
Mommy (Ramona)
Mama (Ramona)
Relationship Status
Married
Appearance
Description
Purple short-sleeved vestlike jacket with light purple sleeves
Long white gloves
Light purple short tank top
Dark grey pants
Purple shoes with purple velcro, white and grey tips and white soles
Biographical Info
Current Residence
Hermenes
Relatives
Christina "Christie" the HedgeCat (Younger Sister)
Storm the Hedgehog (Younger Stepbrother)
Emerald the Hedgehog (Younger stepsister)
Carly the Cat (Mother)
Tempest the Hedgehog (Stepfather)
Gold the Hedgehog (Father)
Granny Tanson (Grandmother)
Personal Info
Likes
Her guitar
Writting Songs
Going shopping
Christina
Rock music
Dislikes
Getting told to go to bed
Getting told to shut up
Gabriella
Occupation
Rock Star
Singer
College Student
Skills and Abilities
Skills
Playing the Guitar
Singing
Powerful hand-to-hand combat
Lina the Hedgehog is a fan character created by Darkest Shadow. She is a rock guitarist and singer. She is also the wife of Derek the Hedehog, older sister of Christina the HedgeCat, daughter of Carly the Cat, and now she is the mother of Ramona the Hedgehog. She is living in Hermenes City with her husband.
For three years, Lina attended the Gaudia university and earned a masters degree in guitar, masters degree in musical composition, and associates degree in music production. She quit her fourth year;two months after her engagement with Derek so that she could prepare to start a life with her husband.
History
Early Life and Childhood
Lina was born on January 26 as the first-born girl of Carly the Cat and Gold the Hedgehog. As a baby, she did whine a lot. However, that whining got her inspired to become a rock singer, for some awkward reason. She then started to develop a strong voice, which became very beautiful.
Around 3 years old, Lina met her little sister, Christina. The two got along well together as family. Christina always followed Lina around and copied her as a baby, which ticked her off. However, Gold started to call her a big girl and gave her a "big girl bed" as Christina got her crib. She liked her new room, and bed a lot. She also started pre-school alongside that.
During around the age of 5, she was very eager to learn how to play the guitar. Her father couldn't find a music teacher for her, so she just had to learn on her own. She then became extremely interested in rock music. So she started to listen to the guitar parts of the songs, and started to play them by ear.
By age 8, she became very good and continued further. Also, a girl came up to her and admirred her guitar-playing skills. Her name was Sasha. The two became very good friends growing up. They always did everything together.
She then was introduced to a girl named Michelle. Her mother and Michelle's mother agreed to make her babysit at age 10. Michelle at first really didn't like Lina, but then she got to know her better. Lina didn't like it either, until she heard you get paid for it. Lina then became Michelle's go-to babysitter on a permanent basis.
Lina then became best friends with Michelle's older sister, Maranda. They, plus Sasha, spent a lot of time together. Lina also learned pyrokinesis, a trait that she never thought she had. Also she got into the regional choir. Her guitar skills were far better than they were.
Middle School Years
During Middle School, she started a rock band club and rehearsed in her garage. Her rock band became a great success in Middle School and they sometimes performed at the school dances. Lots of people look up upon her.
However, she finally realized why nobody was coming to her awesome parties. The hero, Sonic the Hedgehog has the same birthday that she does. She then met him and the two became pretty good friends. Also, Carly divorced Gold and married a new face named Tempest.
During the 8th grade, she finally got along with her stepsiblings Strom and Emerald. They all were a happy family and their annual Transon reunion grew bigger and wider. Lina was excited that she had more people joining the family and their family reunion. She also quit being Michelle's babysitter, as she grew up already.
High School Years
During high school, the MCA accepted her to go there for her musical talents. She also mastered her guitar-playing skills and pyrokinesis. Also, she got interested in becoming a life guard, so she took training classes. She also started to develop a crush on Knuckles.
During her sophomore year of high school, Knuckles and Lina started to go out. Lina also got a record deal with her band to record their songs and put the on the radio. Her songs became a sucess and everyone started to love her. She then had her first ever concert.
As a junior, Knuckles and Lina broke up. She also finally became a life guard. She also got enrolled into driver's ed classes to learn the basics of a car and how to drive. She learned a lot from this.
Finally, she became a senior in high school and got her driver's license. She also became a life gurad and started to get paid a lot.
Current Life
Lina currently goes to a college in Gaudia, which is pretty big. With all of her money from her life guard job, and her money for her all of her concerts and song-selling, she had much over the amount of money to get into Gaudia University, which costs $125,000 to get in to.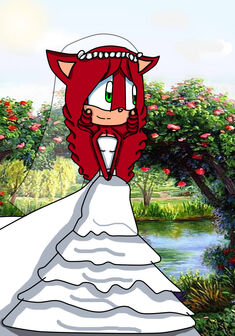 During her first year, college went great for her. Her education level exceeded. She started to write her own music and studies. She also met a boy who played the bass. His name was Derek. Sooner or later, the two started to hang out. They would have a little duo with Lina on guitar, and Derek on the bass.
A little later, Derek and Lina started to go out, but then, a shocking suprise happened. On their 4 month anniversary, Derek proposed to Lina. This was probably one of Lina's biggest decisions of her life. She finally replied "Yes" and got engaged in 2014. 
Marriage
November 3, 2014
It was a wonderful day in the Transon-Svettreco Garden. About a hundred or two chairs were arranged with a somewhat wide gap in the middle. Lina was wearing a beautiful white wedding gown designed by her little sister, Christina. She looked absolutely beautiful. Her soon-to-be husband was waiting for her to arrive. Her flower girls, Emerald and Bloodstone walked down the red carpet onto the staircase. Her bridesmaids, Sasha, Maranda, Michelle, and Christina, walked down with Derek's best men. Then, Lina walked down the aisle as everyone watched her. She was holding a bouquet of flowers in her hand. She then made her way up the staircase, and gave the flowers to her maid of honor, Christina.
Lina's stepfather, Tempest, officiated the wedding. He said a few words before he married the two. He then called Christina up to say her speech for the wedding. Finally, Maranda was called up to say a few words for his brother. Then, he went on. When the two said their vows, they kissed and everyone stood up from their seats and clapped. Storm, her stepbrother, made it snow lightly as the married couple walked down.
Parenthood
A few months into her marriage, Derek and Lina had a talk on whether or not they wanted to have children. While Derek was all for it, Lina was quite frightened to become a father, so they went to a therapist where they talked out their problems. Lina's biggest fear is the stress and changes and consequences of being pregnant. The therapist suggested either a seregant mother to birth her child or plain adoption. This has been an unanswered question for months, but she finally decided to have it naturally with her husband.
Nine months later, on April 3, 2016, Lina bore a daughter, Ramonna Carmen. She was the most precious thing in the world. Her life changed forever, for now she has to put her needs aside and focus all of her attention on her newborn child.
Personality
Lina is laid-back and lazy. She usually likes to hog up the whole couch, which could sometimes be extremely annoying. She doesn't really panic that much and always keeps a calm mind and usually falls asleep when nobody is really doing anything.
Lina could also be extremely loud. Due to her singing, she has a loud shouting voice. This could sometimes be annoying as such people could hear her from the end of the world!
As a babysitter, she is extremely responsible, despite all of her laziness. She also knows what's right and what's wrong. Her responsibility is what got her to be a life guard.
Skills
Lina has shown herself to be very good at playing the guitar. She has been taught by herself ever since she was extremely small. She has grown to be well enough as to get a record deal and perform her songs live on the radio and in concert!
Lina is also very good at singing. She started in elementary school. She loved to sing more than anything else. She then started to learn how to rock-star screech.
Abilities and Powers
Enhanced Durability- Lina has shown herself to be resistant to what others find really painful. It is said that she could eat a bowl of nails for breakfast without any milk. She also was told to stay strong and let pain not be a problem.
Enhanced Strength- Lina is also extremely strong. It is unknown how, but she could break things as strong as metal. She could also lift up averagely unliftable objects like buses and refrigerators. She has proven to be probably one of the strongest, if not the strongest student in her college.
Pyrokinesis- Lina only has one elemental power and that is pyrokinesis. She learned this on her own suprisingly. It didn't run through the family, and that's the odd part.
Relationships
Family
Christina the HedgeCat: Lina and Christina are sisters. However, Lina is older by 4 years. Lina sticks up for Christina when Mimi picks on her, which is a good thing and what a true sister should do. As of now, Lina truly misses Christina the most in college, and always tries to stay in touch with her so she doesn't get hurt.
Derek the Hedgehog: Derek is Lina's husband. Ever since that magical day where they met at Gaudia University, the two had a fairytale romance. On their 2 year anniversary, Derek proposed to Lina, and asked her to be his wife, and she said yes. They got married not to long ago, and right now are living happily together.
Ramona Moonbeam: Ramona is Lina's daughter. She is the most precious thing in the world to her, and knows that she is going to go on and do amazing things in her life when she gets older.
Friends/Allies
Sasha Petals- Sasha and Lina are best friends, almost like siblings. They were friends for a very long time and always had each other's backs. They did almost everything together and basically see each other every single day! They are cities apart right now, but always meet up when they get the chance.
Maranda the Hedgehog- Maranda and Lina are also best friends. They have known each other for a long time and always have each other's backs. They almost always hang out and do things together. As of now, both go to Gaudia University, and have lots of fun there together.
Knuckles the Echidna- Knuckles and Lina have a complicated relationship. Lina possibly could have been his ex-boyfriend, but they don't really know, and just keep it as good friends for now.
Krys the Alicorn- Lina and Krys are pretty good friends. When Krys got accepted into Gaudia with Lina, they two started to grow a little closer. The talk a lot, and try to get to know each other a little better.
Michelle the Cat- Lina used to be Michelle's go-to babysitter on a permanent basis. The girls had fun together and did many things. As Michelle became older, Lina quit babysitting her.
Alexis Petals- As songwriters, Alexis and Lina are good friends. They only went on tour together once. They usually hang out when Lina visits. Sometimes they help each other out with writing songs or even featuring each other in some.
Gabriella the Cat- Gabriella and Lina are enemies. They first met at a young age in a singing competition. After Lina got her disqualified, they aren't very nice to each other. When they visit each other they both give a hair flip showing their hate.
Mimica "Mimi" the Cat- Lina and Mimi hate each other. Lina tries to protect her little sister, Christina, from getting picked on from an evil jerk like her.
Listed Relationships
Family
Derek the Hedgehog (Husband)
Maranda the Hedgehog (Sister-In-Law)
Michelle the Cat (Adoptive Sister-In-Law)
Christina "Christie" the HedgeCat (Sister)
Carly the Cat (Mother)
Gold the Hedgehog (Father)
Bloodstone the Hedgehog (Half-Sister)
Tempest the Hedgehog (Stepfather)
Storm the Hedgehog (Stepbrother)
Emerald the Hedgehog (Stepsister)
Opalescene the Cat (Grandmother)
Francis the Cat (Deceased Grandfather)
Ruby the Hedgehog (Grandmother)
Hail the Hedgehog (Grandfather)
Snow the Hedgehog (Aunt)
Silver the Hedgehog (Cousin)
Neo Tranquil the Fox (Cousin)
Ages Tranquil the Fox (Adoptive Cousin through Neo)
Maria the Fox (Aunt)
Gabriel the Fox (Uncle)
Millie the Mouse (Possible Aunt)
Trivia
Lina shares a birthday with Sonic the Hedgehog on January 26.
Having a cat for a mother, Lina has recessive cat genes.
It is still unknown how Lina is the only one in her family to have red fur.
Lina's favorite color is purple.
Lina hates when a song is abruptly cut off, like when a car radio stops from the car being shut off.
Lina had five jobs in high school;teaching guitar, lifeguarding, babysitting, kitchen duty and a checkout cashier.
  Mariala Anime Characters
Singers
Swag Squad
Fashion Stars
The MerMobians
High Rollers
Beach Cove
Performing Arts Kids
Athletes

Thresh the Horse

,

Michelle the Cat

,

Nightfall the BatCaracal

,

Chloretta the Cat

,

Jessie the Fox

,

Mildred the Cat

,

Danny The Hedgehog

,

Lindsay the Porcupine

,

Briyanna the HedgeFox

,

Melanie the Dog

,

Ashley the Cat

,

Wendy the Pegasus

,

Jayden the Hawk

,

Storm The Hedgehog

,

Emerald The Hedgehog

Sister's Group
Recurring Heroes

Nikki "Nikkell" the Hedgehog

,

Starlight the Hedgehog

,

Ryder the Hedgehog

,

Sonic the Hedgehog

,

Miles "Tails" Prower

,

Knuckles the Echidna

,

Amy Rose

,

Shadow the Hedgehog

,

Cyclone the Hedgehog

,

Irma Hegine

,

The other Mary the Hedgehog

,

Louis Robinson

,

Blaze the Cat

,

Silver the Hedgehog

,

Cream the Rabbit

,

Espio the Chameleon

,

Rouge the Bat

,

Azmaria the Hedgehog

Team Fashion
Main Villains
Recurring Villains
Parents
Community content is available under
CC-BY-SA
unless otherwise noted.