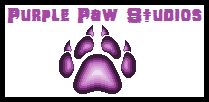 ~ This page is a creation of Purple Paw Studios ~
~~~~~~~~~~~~~~~~~
Basic Info
Full Name
Kuuvalgus the Fox
Species
Mobian/Corsac Fox
Appearance
Description
Fur:
Black olive
and
ash gray
Hair:
Auburn
Eyes:
Cadmium orange
Biographical Info
Personal Info
Occupation
Dark Clan soldier
Skills and Abilities
Skills
Skilled w/ longsword
Abilities
Hand-to-hand combat
Good agility
Good physical strength
Kuuvalgus the Fox is a soldier that serves the Dark Clan of Voidstar.
Physical Description
A fairly limber fox who stands a little over three feet tall, Kuuvalgus has a short muzzle with a triangular nose, medium-sized, pointed ears that stand upright, and only a fluffy stub of a tail; the rest of it was lost in a battle against a Light Clan swordsman.
His fur is primarily black olive in color, with an ash gray muzzle, eye markings, chest, and stomach. His hair, which is styled into a mohawk of sorts, is auburn in color, same as his goatee, and his eyes are Cadmium orange in color.
He looks a bit like a punk rocker, with studs in his ears and a chunk missing from the left one. He wears a choker collar, a somewhat torn vest, fingerless gloves with studded wristbands, boots with studded cuffs, and a belt around his waist, as well as jeans.
History
Childhood
Abilities
Base Stats
Stamina
Great
Strength
Great
Energy
Average
Durability
Average
Resistance
Average
Speed
Great
Reflexes
Great
Magic
N/A
Kinesis
Great
Intellect
Good
Other Stats
Eyesight
Great
Hearing
Superior
Olfactory
Superior
Like the other Dark Clan soldiers, Kuuvalgus is a fairly well-rounded fighter, who primarily excels in close-range combat; he wields a longsword, a decently long, double-edged weapon. He is quite fast and agile, able to easily outpace slower opponents and evade their attacks; unfortunately, he is not terribly sturdy, and cannot take too many hits.
Kuuvalgus is an adept Spectrakinetic as well, and primarily wields offensive, low to mid-tier techniques of the Darkness Element, such as Dark Rounds and Night Slash.
Strengths/Resistances
Kuuvalgus is relatively resistant to the Element of Darkness. He is also quite agile, able to dodge slow-moving opponents and attacks with ease.
Weaknesses
Kuuvalgus is weak to the Element of Light. His defenses aren't anything special, therefore he mostly relies on his agility to try and evade potentially devastating attacks.
Friends and Foes
Friends/Allies
Rivals
Enemies
Family
Romance
Personality
Laid-back and very slow to anger, Kuuvalgus has an easy-going and fairly jovial nature. This amiable personality tends to carry over while in a fight, but he's not dumb enough to underestimate his opponent, and is more perceptive than he looks. He doesn't hold onto grudges too well, and is quite forgiving, but highly protective of his allies; maliciously attacking them is a surefire way to arouse his ire.
Positive Traits
Neutral Traits
Negative Traits
Quotes
Notes
His name is the Estonian word for "moonlight".
Community content is available under
CC-BY-SA
unless otherwise noted.