Freedom Fighters (Kingdom of Acorn)
Group Overview and Statistics
Type

Freedom Fighter group

Time of
formation

After Sonic's victory in the Final Zone

Members

Sally (Leader)
Antoine D'Coolette
Bunnie D'Coolette
Rotor the Walrus
NICOLE the Holo-Lynx
Sonic the Hedgehog
Miles "Tails" Prower
Knuckles the Echidna
Elias Acorn
Julie-Su the Echidna
Anastasia "Marsha" Vixi (de-facto leader)
Cosmo the Seedrian
Gold the Tenrec
Saffron the Bee
Angel the Chao
Dusk the Dog
Snowball the Bunny
T-Pup
Fiona Fox

Alignment

Good

Status

Active

Resident
location
and/or bases

Sky Patrol
Mobotropolis
Knothole Village (formerly)

Equipment and/or
weaponry

Extreme Gear
Ring-Blades
Omnitool
Energy Sword
Sword of Light
Twin-Barrel Proton Gun

Allies

Freedom Fighter groups
United Federation
G.U.N.
Team Dark
Chaotix
Mighty the Armadillo
Ray the Flying Squirrel
Honey the Cat

Enemies

Eggman Empire
Dr. Eggman
Orbot
Cubot
Egg Army
Badnik Horde
Metal Sonic
Walter Naugus
Dark Princess
Dr. Finitivus
Azumi
Scourge
The
Freedom Fighters
are a Freedom Fighter group, led by
Princess Sally Acorn
, who came together to oppose
Eggman
's tyrannical rule over
Mobius
. Inspired by the heroic efforts of to be a beacon of hope for their planet as they travel the world and challenge Eggman's evil and other villains wherever they who fights one of the strongest enemies
Azumi
Nikita's evil alter ego.
History
Formation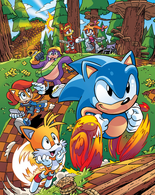 The Freedom Fighters were formed after Dr. Eggman had taken over the city of Mobotropolis by a young Sally, out of a desire to stop hiding and make a difference. The team first formed after Sonic the Hedgehog's victory against Eggman in the Final Zone, inspired by Sonic's heroism. Among their many victories were liberating Mobotropolis from Dr. Eggman and rescuing King Acorn from the Special Zone. Despite Sally's fears, King Acorn allowed her to stay with the Freedom Fighters, realizing how valuable she was to the team despite his own fears for her sabut not realizing that they was fighting the most dangerous enemy scourage evil Sonic's girlfriend who had took over her host's body for 10 years.
Tactics
The Freedom Fighters originally used guerrilla tactics as they did not have the numbers or the resources for a proper army. However, since the reestablishment of the Kingdom of Acorn and Eggman's open declaration of war, they have abandoned these tactics for a more direct and frontal method of attack.
Equipment
Sky Patrol: The mobile base of operations, designed and built by Rotor and Tails.

Twister: A bi-plane piloted by Antoine and designed by Rotor. Designed after the Tornado and the Tornado 2.

Extreme Gear: Small hoverboards employed by members of the Freedom Fighters incapable of independent flight or for high speed transport.
Trivia
It was Sonic who came up with the team's name.

Sally, Antoine, Bunnie, Rotor, Sonic and Tails were the original members, while Marsha, Julie, Cosmo, Saffron, NICOLE, Knuckles and Elias came members later on.
Members
Sonic the Hedgehog (De Facto Leader)
Community content is available under
CC-BY-SA
unless otherwise noted.